Trailer Suspension System features neutral-toe axle.
Press Release Summary: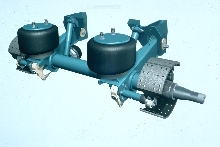 INTRAAX AANT 23K tapered-beam primary air-ride trailer suspension-axle-brake system has capacity of 23,000 lb in ride heights from 13.5 to 17 in. Hanger design allows installation directly to trailer frames with flanges as narrow as 4 in. wide. Applications include haulers running straight-frame platforms, container chassis, liquid tankers, bulk tankers, bottom dumps and livestock trailers.
---
Original Press Release:
Tapered-Beam Primary Shaves 35 Pounds From Intraax(R)

CANTON, OH--Hendrickson unveils the next generation primary air-ride trailer suspension system, the tapered-beam INTRAAX& AXNT 23K.

The INTRAAX tapered-beam technology allows Hendrickson to trim more than 35 pounds from what was already the lightest, toughest integrated suspension-axle-brake system in the industry today.

While trimming weight allows haulers to carry more cargo on each run, the tapered beam AANTT maintains the smooth ride, superior performance and rugged durability that has made INTRAAX the highest quality and most popular air-ride primary on the market. A narrower hanger design allows installation directly to trailer frames with flanges as narrow as four-inches wide offering potential for even greater weight savings.

The tapered-beam TNTRAAX AANT boasts a capacity of 23,000 pounds in ride heights from 13.5 to 17 inches and provides the definitive system for weight-conscious haulers running straight-frame platforms. container chassis, liquid tankers. bulk tankers. bottom dumps and livestock trailers.

Hendrickson established the advantages of the tapered-beam JNTRAAX with literally millions of service miles on every major highway in North America through technology adapted from our proven VANTRAAX slider system. With tens of thousands of units on the road today. VANTRAAX has grown to be the first choice of air-ride van operators since its introduction some four years ago.

In addition. Hendrickson offers the tapered-beam INTRAAX A.ANT 23K with the X3 Tri- Base, a modular mounting- subframe designed primarily for steel platform trailers.

The patented X3 Tri-Base represents the next step in modular system integration between the suspension system and the trailer frame. This new design increases lateral. torsional and longitudinal stiffness to prevent trailer frame parallelogram deflections.

The tapered-beam AANT 23K brings all of the features of INTRAAX including the industry's only standard Cam Tube System, which enhances S-cam alignment and extends brake bushing life, and Hendrick-son's neutral-toe axle that improves tire life and fuel mileage.

A variety of options such as long-life wheel ends including HUS, a unitized hub system, and HXS (Hendrickson Extended Service) brakes allow fleets and owner operators to customize their systems to meet specific hauling needs and customer demands.

Hendrickson International, with 24 facilities worldwide, is one of the largest international suppliers of truck, tractor and trailer suspensions; lift axles; springs; bumpers, and stamped components to the commercial transportation industry. Headquartered in Woodridge. 1ll. Hendrickson has been meeting the needs of the transportation industry for more than 70 years

More from Material Handling & Storage