Trailer Mounted Guard Booths Provide Security on the Go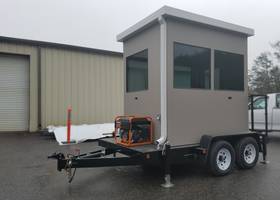 Combining mobility with next level protection, Panel Built, Inc.'s line of trailer mounted guard booths allows for state of the art security on the go. These guard booths can be constructed to any NIJ (National Institute of Justice) or UL (Underwriters Laboratories) bullet resistance ratings. These bullet resistance ratings, also known as ballistic ratings, vary greatly from level to level with level 1 (UL) being rated for 3 shots of 9mm ammo (in a 4.5" triangle) and level 8 being rated for 5 shots of 7.62mm ammo (in a 4.5" square).
With their welded steel walls, these booths are heavy duty and provide top of the line protection in high threat areas. Typically utilized in military setting like bases, forts, and airfields, these mobile buildings have also proved to be usefull at banks, manufacturing facilities, and transportation hubs all across the country.
For more information on our line of trailer mounted guard booths, check out our site at https://www.panelbuilt.com/ or call us at 8006363873.
Panel Built, Inc.
302 Beasley Street
Blairsville, GA 30512
8006363873
Nathaniel Otto
Marketing Assistant
More from Architectural & Civil Engineering Products