Trailer Hitch Mount attaches umbrella to trucks.
Press Release Summary: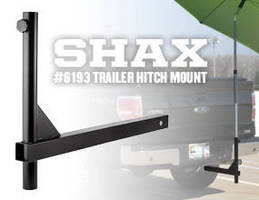 Designed to fit standard 2 in. hitch receiver on back of truck, SHAX® 6193 Umbrella Trailer Hitch Mount holds SHAX® 6100 Umbrella in place, providing shade anywhere. Portable accessory uses thumbscrews to secure durable, rust-resistant steel pole. Used together, umbrella and hitch mount protect workers from harmful UV rays at outdoor worksites such as highways, construction sites, and farms.
---
Original Press Release:
Ergodyne Launches Umbrella Trailer Hitch Mount
St. Paul, Minn.  – Ergodyne announced today the launch of its SHAX® 6193 Umbrella Trailer Hitch Mount. The 6193 is a portable accessory piece that fits with a standard 2" hitch receiver onto the back of a truck and holds the SHAX® 6100 Umbrella in place, providing shade wherever, whenever.

"Many outdoor workers who are frequently exposed to harmful UV rays also use a truck on the job," said Alsie Nelson, associate product manager, Ergodyne. "Adding an optional accessory piece that can attach our umbrella to a truck's trailer hitch was a logical and necessary enhancement to our SHAX® offerings."

Easy to attach/operate, the 6193 – when used with Ergodyne's 6100 Umbrella – protects workers at outdoor worksites like highways, construction sites, and farms from the sun's harmful UV rays. Thumbscrews hold the durable, rust-resistant steel pole in place and its long length allows users to bring down the tailgate and sit in the shade.

Besides being a workplace best practice, providing your crew with shade is the law in some states. Last year, California OSHA published an updated version of their heat illness regulations. Title 8, Section 3395 now requires employers to provide shade for their employees when temperatures exceed 80° F. For more details, download and read our free tech bulletin.

"There is nothing quite like this product on the market today," said Tom Votel, president and CEO, Ergodyne. "Just because you work in the sun doesn't mean you should have to bake in it as well. That's why we're hell bent on providing creative solutions to keep workers comfortable, safe, and productive on the job."

Ideal for anyone seeking convenient shade on the job, the SHAX® 6193 Umbrella Trailer Hitch Mount is available NOW at all authorized Ergodyne distributors. For more information or to find out where to buy, visit www.ergodyne.com or call 800.225.8238 // 651.642.9889.

Key Features

Fits standard 2" hitch receivers.
Holds SHAX® 6100 Umbrella (sold separately).
Thumbscrew holds pole in place.
Powder-coated finish on pole.

About Ergodyne
Since 1983, Ergodyne has pioneered the development of safety products that Make The Workplace A Betterplace™. What started with just one product has grown into a line of top flight, battle-tested, Tenacious Work Gear®; all precision crafted to provide protection, improve productivity and manage the elements for workers on jobsites the world over. The current lineup is extensive and constantly growing including: Hand Protection, Knee Pads, Supports, Footwear Accessories, Cooling Products, Warming Products, Hi-Vis Apparel, Lanyards, Equipment Storage Systems, Performance Work Wear, Portable Work Shelters, Head Protection, and Eye Protection.
More from Packaging Products & Equipment