Traffic Signals use LEDs instead of incandescents.
Press Release Summary: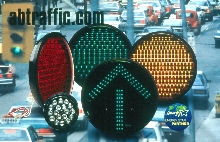 LED-based lamps for traffic lighting and control include traffic and pedestrian signals in industry standard 8- and 12-in. ball, and 12-in. arrow configurations. Colors are red, yellow, and green with dominant wavelengths of 626, 592, and 505 nm, respectively. Field retrofitting requires replacing incandescent bulb, reflector, and lens in traffic signal enclosure. Also available are LED clusters, LED devices, and displays for changeable message signs.
---
Original Press Release:
American Bright Launches Complete Line of Lighted Traffic Control Products Offering Increased Energy Efficiency

BREA, Calif. - March 26, 2002 - Offering new energy savings solutions, American Bright Optoelectronics Corporation, a leading supplier of LEDs, has launched a complete line of lamps specifically designed for traffic lighting and control for both new and existing installations. These LED-based lighting products are estimated to reduce power consumption by 90 percent over incandescent bulbs while increasing reliability and visibility.

The new line includes a wide range of proprietary plug and play lighted traffic control products including traffic signals and pedestrian signals. Also available is a broad selection of LED clusters, LED devices, and displays for designers seeking to create their own display products for changeable message signs.

American Bright's traffic signal lamps are available in industry standard eight and 12-inch ball, as well as 12-inch arrow configurations in red, yellow and green with dominant wavelengths of 626nm, 592nm, and 505nm respectively. All lamps feature AllInGaP and InGaN LED material with lens and housing materials manufactured with UV resistant polycarbonate. Operating temperature range is from -40 degrees F to 165 degrees F. For existing installations, field retrofitting is easily accomplished by simply replacing the incandescent bulb, reflector and lens in the traffic signal enclosure.

Applicable models are certified to all ITE (Institute of Transportation Engineers) specifications and most units qualify under ENERGY STAR(R) criteria. The line incorporates LEDs manufactured by American Bright, offering greater control over supply, reliability, delivery and pricing than possible with suppliers depending on out-sourced LED manufacturers.

"With the energy-saving economies offered by LED lighting, we anticipate that the new Lamps and LEDs will quickly replace incandescent lighting as the standard in both signals and illumination," said Patrick Mullins, Vice President of American Bright's recently formed Traffic Division.

American Bright Optoelectronics Corporation was introduced in the U.S. as a division of Bright LED Electronics Corporation in 1995. Today, the company is a leader in LED development and supplier to industry's leading manufacturers. American Bright manufactures one of industry's largest selections of SMT LEDs, LED Lamps, Axial Lead LEDs, IR Emitter and Photo Transistor products, LED cluster displays and custom products. Its high-quality products, immediate response and prompt delivery, large selection and continued progress in LED design and development support the company's commitment to customer service.

American Bright's parent company, Bright LED Electronics Corporation, is headquartered in Taipei, Taiwan with offices in Hong Kong and USA, serving as a major supplier to the world's leading manufacturers. For further information, contact American Bright Optoelectronics Corporation, 800 Columbia Street, Brea, CA 92821; Tel: (714) 257-0800; Toll Free: (888) 533-0800; Fax: (714) 257-1310; Visit our wcb site at www.americanbrightled.com.


More from Laboratory and Research Supplies and Equipment