Traffic Camera System handles advanced ANPR applications.
Press Release Summary: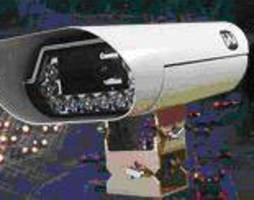 Installed on gantries or pole-mounted, IIT Traffic Camera System utilizes IR light reflected from passing vehicles to create virtual trigger line. Compact unit includes camera, plate illumination, continuous light sensing, triggering, and embedded ANPR/ALPR functions, with Ethernet or wireless interface. Able to operate under any lighting condition, camera outputs TIFF or JPEG images - or uses embedded ANPR/ALPR to output XML plate data or plate data and vehicle image.
---
Original Press Release:

Faster and Leaner Deployment of ANPR with New IIT Camera



JAI's new IIT Traffic Camera System is able to handle a wide range of advanced vehicle imaging and vehicle recognition (ANPR) applications in open road tolling, congestion charging, section speed control, parking access control, journey time and other traffic management applications.

It is a robust all-in-one design that supports quick deployments and significantly reduced infrastructure costs in any ANPR application. It can be installed on existing gantries, or can be easily pole-mounted where gantries are unavailable or too expensive to build.

JAI's IIT Traffic Camera System for vehicle recognition features:

o One compact unit that includes camera, plate illumination, light sensing, triggering, and embedded ANPR/ALPR functions, with Ethernet or wireless interface.

o Unique virtual trigger-line providing top-of-the-line image trigger accuracy. This JAI patent pending technology reduces infrastructure costs (no need for ground loops, laser detectors, or other lane controller hardware).

o Industry leading image quality under any light condition - day & night.

o Continuous light sensing eliminates the need for auto-iris lenses, resulting in no moving parts, higher reliability and lower maintenance costs.

o Choice of in-house high performance cameras and lenses.

o Output TIFF or JPEG images - or use embedded ANPR/ALPR to output XML plate data or plate data and vehicle image.

High quality images under any light conditions

The system is equipped with a built-in IR illuminator to enable reliable imaging of vehicle plates, day or night, in virtually any weather or ambient light conditions, without the need for an external flash or other supplemental light sources. Also built into the IIT Camera System is an advanced light sensing system that reads the light being reflected from the scene and instantaneously adjusts the camera settings for best image exposure.

Vehicle detection principle with virtual trigger line

The key to the IIT (In-Image Triggering) Camera System is its ability to detect and capture images of fast moving vehicles without the need for ground loops, laser detectors, or other lane controller hardware.

The IIT Camera System uses IR light reflected from passing vehicles to create a virtual "trigger line" that tells the camera when to capture an image. This patent pending triggering technique provides very reliable image results.

JAI´s new (patent pending) IIT Traffic Camera System is able to detect and capture images of fast moving vehicles without the need for ground loops, laser detectors, or other lane controller hardware.

When the car (license plate) passes the "virtual trigger line" (the rectangular field), the projected IR light is reflected from the license plate back to the camera which is then triggered to capture an image.

Choice of high performance cameras and lenses

The IIT Camera Systems can be configured with a range of our in-house designed cameras also available in JAI's VISCAM family of products. This includes monochrome or color progressive scan cameras with varying formats and resolutions to fit a range of different applications and camera locations.

A range of JAI in-house designed cameras available for the IIT Traffic Camera System.

Contact JAI for more information

Learn more about the new IIT Traffic Camera System:

You can reach us by submitting the contact form or contact us directly via e-mail or phone:

USA

E-mail: trafficsales.americas@jai.com

Phone +1 408 383-0300

Phone (toll free): +1 800 445-5444

Europe, Middle East and Africa (EMEA)

E-mail: trafficsales.emea@jai.com

Phone: +45 4457 8888 (Denmark)

Asia and Pacific (APAC)

E-mail: trafficsales.emea@jai.com

Phone: +45 4457 8888 (Denmark)

More from Materials