Tractor-Scraper comes equipped with bowl or auger.
Press Release Summary: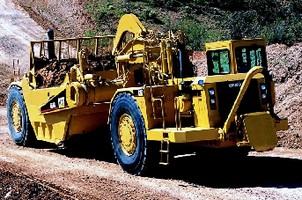 Featuring Cat® C18 engine for tractor and Cat® C15 engine for scraper, Model 657G provides max travel speed of 36 mph, max cut depth of 16.7 in., and max spread depth of 26.8 in. Both engines feature Mechanically-actuated Electronically Controlled Unit Injection and have dual horsepower capabilities. ACERT(TM) technology minimizes emissions during combustion process, while cooling system minimizes clogging, and G-Series cab and controls provide operator comfort.
---
Original Press Release:


Caterpillar Introduces 657G Wheel Tractor-Scraper With ACERT(TM) Technology, New Cooling System, Enhanced Cab and Easy Service




The tandem-powered Caterpillar® 657G Wheel Tractor-Scraper features the Cat® C18 engine for the tractor and the Cat C15 engine for the scraper. Both engines feature ACERT Technology for reliable, responsive performance and reduced emissions. The 657G also incorporates a new cooling system that reduces clogging, the G-Series cab and controls for superior operator comfort and efficiency, enhanced service access, and component changes that boost reliability and durability. The 657G replaces the 657E and is the largest in the line of eight Caterpillar wheel tractor-scrapers.

The C18 tractor engine replaces the 3412E and the C15 scraper engine replaces the 3408E used in the previous model. The new engines meet US EPA Tier 3 and EU Stage IIIa engine exhaust emissions requirements. ACERT(TM) Technology reduces emissions during the combustion process by using advanced technology in the fuel and air systems. Both engines feature Mechanically-actuated Electronically Controlled Unit Injection (MEUI(TM)). Both of these engines have dual horsepower capabilities. The C18 in the tractor is rated at 600/564 hp (447/421 kW) and the C15 in the scraper is rated at 451/410 hp (337/306 kW). Dual power capabilities enable the engines to produce more power in higher gear ranges for improved gradeability and reduced cycle times.

The 657G can be equipped with a standard bowl or an auger for improved self loading and a broad material appetite. Heaped bowl capacity is 44 cubic yards (33.6 cubic meters). A high volume coal bowl will be available in 2007. The 657G is designed to be push loaded by a D10 or D11 track-type tractor, self loaded or loaded in a push-pull configuration. The push-pull arrangement enables two scrapers to assist each other when loading.

Proven G-Series Features
The 657G retains features proven on the smaller G-Series scrapers. The single lever implement control combines the traditional three implement levers-bowl, apron, ejector-into one joystick. The operator can raise and lower the bowl and actuate the apron and ejector with the single joystick. A combination grab handle and hand rest has been added near the joystick implement control to help steady the operator's arm. The joystick incorporates a rocker switch for the push-pull bail or auger activation, depending on how the machine is equipped. The electronic transmission controller simplifies gear selection and allows the operator to program the top gear for matching travel speeds to the rest of the fleet. A gear indicator gauge on the dash informs the operator of actual gear engagement.

A new Caterpillar Comfort Seat with new air suspension offers four different swivel lock points to allow proper positioning in relation to the joystick. The G-Series instrument panel features a quad gauge cluster that includes fluid level and temperature displays. The 657G allows scraper engine start-up and monitoring directly from the cab.

New radiator, enhanced service access
Both the tractor and scraper have Caterpillar Next Generation Modular Radiators (NGMR), which features 9 fins per inch as compared to 33 fins per inch in the previous model. The increased spacing reduces clogging in severe applications. Also, the grill of the tractor is hinged, and there are two side panels for easy access to the radiator core.

The tractor has two side doors on the right side that allow easy access to service points. Additionally, the hood is hinged on the front with support from spring struts for access to the top of the engine bay. More room in the engine compartment and more steps to access points facilitate service.

Both the tractor and scraper engines use a poly-vee belt and have automatic belt tensioning, which replaces the manual tensioning on previous models. The number of belts on the tractor engine has been reduced from five to two, and the scraper engine now has two belts instead of four. The fan drive bearings on both the tractor and scraper require no servicing. The previous model required bearing service at 250-hour intervals.

The jumpstart receptacle and disconnect switch are integrated in a one-piece power block for durability and serviceability. The disconnect switch has a lockable cover and disconnects all power for servicing.

The 657G continues to build on proven Caterpillar designs while incorporating new technology for enhanced performance, reliability, durability, serviceability and operator comfort. For more information, contact your local Cat dealer or visit www.cat.com.

Basic Specifications for 657G
Engine Tractor: Cat C18
Scraper: Cat C15
Engine power (net) T: 600/564 hp (447/421 kW)
S: 451/410 hp (337/306 kW)
Transmission 8F/1R, powershift
Heaped capacity 44 yd3 (33.6 m3)
Rated load 104,058 lb (47 200 kg)
Maximum travel speed 36.0 mph (55.7 kph)
Maximum cut depth 16.7 in. (425 mm)
Maximum spread depth 26.8 in. (680 mm)
Width of cut outside router bits 12 ft 7 in. (3846 mm)


More from Thermal & Heating Equipment