Trackball replaces navigation keys on mobile phones.
Press Release Summary: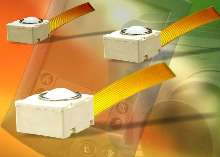 Miniature Trackball 360° scanning and select switch features 8 mm dia. ball housed in 12 x 12 x 9.1 mm unit. Two built-in LEDs provide electrically independent 2-color illumination. Trackball scanning switch can be set to deliver 8-24 pulses per ball rotation and can achieve 2.4-7.2 mil cycles with 300,000 full rotations. It gives selecting force of 2.2 N (±25%), scanning force of 0.35 N (±0.1 N), and consumes no current. Switching power of 0.2 VA max is required.
---
Original Press Release:

ITT Industries, Cannon Launches First Miniature Trackball


SANTA ANA, CA (January 6, 2004) - ITT Industries, Cannon has launched the industry's first miniature Trackball 360° (ittcannon.com/trackball) scanning and select switch. The switch was developed to replace navigation keys or mini joysticks used in mobile and smart phones, PDAs, cameras, camcorders, as well as keyboards, remote controls, and GPS systems. The 8mm diameter ball is housed in a unit measuring only12 x12 x 9.1mm. Two built-in LEDs can be integrated inside the housing of the Trackball and provide an electrically independent 2-color illumination of the ball.

"New and emerging wireless devices demanded a better navigation solution requiring more accurate navigators with improved usability and more consistency of the tactile feedback, attractive illumination and faster switching response time especially for games applications," said product manager, Vincent Strasser. Cannon's Trackball scanning switch can be customized to deliver from 8 to 24 pulses per ball rotation. Operating life is higher than that offered by a joystick. With 300,000 full rotations, Trackball achieves from 2.4 to 7.2 million cycles depending of the number of pulses chosen per one complete turn. Trackball is a fully electromechanical component that consumes no current and requires only 0.2VA maximum switching power.

Tactile feedback is designed to be very positive: the 8mm ball gives a selecting force of 2.2N +/- 25% and a scanning rotating force of 0.35 N +/- 0.1 N. Additionally, the Trackball has a sealing ring around the ball (IP54) and grooves located on both sides of the bottom plastic body allow snap-in fixing on the front casing of the device. Termination is via a flex circuit.

The Trackball switch can be customized for a variety of application features, including LED selection, actuator colors and textures. Pricing depends on the features required, but budgetary pricing for non-illuminated models is below $1.50. Typical lead times are 6-8 weeks. For more information on this product, go to: ittcannon.com/trackball.

ABOUT ITT INDUSTRIES, CANNON

ITT Industries, Cannon (www.ittcannon.com) is an international supplier of connectors, interconnects, cable assemblies, switches, dome arrays, keypads, multi-function grips, panel switch assemblies, I/O card kits, smart card systems and LAN components, as well as a provider of high-speed/high-bandwidth network systems and services.

ITT Industries supplies advanced technology products and services in key markets including: electronic interconnects and switches; defense communication, opto-electronics, information technology and services; fluid and water management and other specialty products. Headquartered in White Plains, NY, the company generated $4.99 billion in 2002 sales. In addition to the New York Stock Exchange, ITT Industries stock is traded on the Midwest, Pacific, London, Paris and Frankfurt exchanges.

More from Electronic Components & Devices