Track-Type Tractors are ergonomically designed.
Press Release Summary: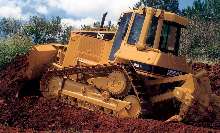 Models D5N and D6N are powered by 3126B Hydraulic Electronic Unit Injection engines, which deliver 115 and 145 net hp respectively. Drive train components are electronically integrated. Equipped with Finger Tip Control (FTC) Steering, D5N models can be operated with one hand, while D6N models are offered with FTC and Differential Steering. Cab includes sound levels of 76 dB, ergonomically shaped and placed controls, and Electronic Monitoring System.
---
Original Press Release:

New Cat® D5N and D6N Track-Type Tractors Offer More Power, Reduced Emissions, Greater Comfort, Updated Styling


Caterpillar introduces the D5N and D6N Track-Type Tractors, designed for high productivity, long life and low operating costs in tough applications. The new machines retain the strengths of their predecessor models, the D5M and D6M, but include updates such as an electronic engine that increases horsepower, improves fuel efficiency and reduces emissions; Differential Steering (D6N only); a quieter, more comfortable operator's station; new styling; and many improvements that enhance serviceability.

Clean, fuel-efficient engine
Both new machines are powered by the Cat 3126B HEUI(TM) (Hydraulic Electronic Unit Injection) engine. The D5N delivers 115 net horsepower (86 kilowatts), a 5 percent increase over the D5M. The D6N also has 5 percent more power than its predecessor and is rated at 145 net horsepower (108 kilowatts).

The 3126B meets Tier 2 and Stage II emissions requirements. Its HEUI fuel system optimizes the combustion process, resulting in greater fuel efficiency with lower emissions and less noise. In addition to being clean, quiet and economical to operate, the new engine features excellent torque rise, convenient service access, good cold-start capability and easy maintenance.

Integrated drive train components
Major drive train components on the D5N and D6N are electronically integrated to optimize performance and life. The electronic transmission has an Auto-shift feature that allows the operator to pre-select a forward or reverse gear for easier directional changes. An Auto-kickdown function makes the transmission downshift automatically when significant load increases are detected. Electronic Clutch Pressure Control modulates the clutches individually to improve shift quality and operator comfort. Load Compensating Shifting automatically adjusts clutch engagement timing based on load factor. Controlled Throttle Shifting regulates engine speed during high-energy directional changes for smoother shifts and longer component life.

Precise, low-effort steering systems
The D5N is equipped with Finger Tip Control (FTC) Steering. It combines steering, machine direction and gear selection into a single low-effort control group that can be operated with one hand.

The D6N is available with both FTC Steering and Differential Steering. Differential Steering maintains power to both tracks while turning, so large blade loads can be maneuvered efficiently throughout turns. With Differential Steering, operators have precise, consistent steering control, regardless of ground conditions, and can work more productively on slopes, around buildings and near other obstacles. A separate hydraulic pump for the Differential Steering system ensures that sufficient flow is available when the operator is steering and using the implements at the same time.

Attractive styling, comfortable work environment
The new tractors are attractive to look at and comfortable to operate. Rounded shapes, cleaner lines and more glass area in the cab give the tractors visual appeal while, at the same time, providing good visibility. A cab and air conditioning are now standard features on both machines. Cab sound levels of 76 dB(A) per ISO 6394 test method are among the lowest of the D5N and D6N size classes. New lower-effort controls are conveniently located and ergonomically shaped. An optional Cat Comfort Seat provides excellent support all shift long. The new Electronic Monitoring System (EMS III) keeps the operator well informed about machine status. The monitoring system can be updated easily by flashing software changes.

Fast maintenance and service
Several new features make the D5N and D6N easier to maintain and service. Engine doors are hinged, with a hold-open latch, for easier access. The engine has a single Poly-Vee fan belt with auto tension, eliminating the previous three- or four-belt system. Engine oil change intervals have been extended to 500 hours. An improved radiator design resists plugging, and its individual modules can be replaced quickly. Pressure taps have been added - and grouped in one readily accessible area - to make hydraulic system troubleshooting easier. The new advanced monitoring system helps speed the diagnostic process and is compatible with existing service tools.

An optional wireless communication system called Product Link is available as a factory- or dealer-installed attachment for both track-type tractors. Product Link uses satellite technology and the Internet to provide machine location, service meter hour and product health information. The system is a valuable fleet management tool that helps improve availability and increase uptime.

Rugged, reliable components and structures
The new N-Series machines retain the core strengths of the Cat track-type tractor product line. The mainframes feature castings in high stress areas for extra durability. The exclusive Cat elevated sprocket undercarriage improves productivity, versatility and track life. A full line of work tools and attachments allows the customer to match the machine to the application.

For more information about the Cat D5N and D6N track-type tractors, customers should contact a Cat dealer or visit the web site at www.cat.com.


                Basic Specifications



                               Cat D5N XL      Cat D5N LGP

Operating weight- lb (kg)    28,258 (12 818)  29,217 (13 252)

Engine                         Cat 3126B        Cat 3126B

Engine power - kW (hp)          115 (86)         115 (86)

Engine displacement - in³ (L)   439 (7.2)        439 (7.2)

Drawbar - lb ft (N)          50,260 (223 657) 50,260 (223 657)

Transmission                   Powershift       Powershift

Blade VPAT - yd³ (m³)           3.4 (2.6)        3.4 (2.6)

Track gauge - in (mm)           70 (1770)        79 (2000)

Rollers/side                        7                8

Standard shoe width - in (mm)     22 (560)        30 (760)

Track on ground - in (mm)        94 (2388)      103 (2604)

Ground pressure - psi (kPa)    6.81 (47.0)     4.76 (32.8)

Ground clearance - in (mm)      14.9 (378)      16.6 (422)



                               D6N XL                     D6N LGP

                               FTC/DS                     FTC/DS

Operating weight - lb (kg) 34,209/35,688 (15 517/16 188)  37,968/39,918 (17 222/18 107)

Engine                        Cat 3126B                  Cat 3126B

Engine power- kW (hp)         145 (108)                  145 (108)

Engine displacement - in³ (L) 439 (7.2)                  439 (7.2)

Drawbar - lb ft (N)        64,760 (288 182)           64,760 (288 182)

Transmission         Powershift/Differential Steer    Powershift/Differential Steer

Blade VPAT - yd³ (m³)        4.16 (3.18)                 4.13 (3.16)

Blade SU - yd³ (m³)           5.6 (4.28)                     --

Track gauge - in (mm)          74 (1890)                  85 (2160)

Rollers/side                      7                          8

Standard shoe width - in (mm)  24 (610)                   34 (860)

Track on ground - in (mm)      100 (2550)                122 (3102)

Ground pressure - psi (kPa) 7.09/7.40 (48.9/51.1)       4.59/4.83 (31.7/33.3)

Ground clearance - in (mm)     16.7 (424)                21.2 (538)
More from Agricultural & Farming Products