Track System addresses volume manufacturing applications.
Press Release Summary: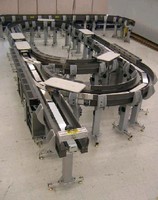 Made up of modular track segments and based on QuickStick(TM) linear synchronous motor, MagneMover® is intended for assembly and manufacturing applications that require high-volume handling of materials and work in process. System uses 0.6 m long vehicles and electromagnetic switching to provide material transport. One-meter turn radius allows it to fit into almost any floor plan, while vehicle management capability allows bumper-to-bumper vehicle advancement, queuing, and indexing.
---
Original Press Release:

MagneMotion Unveils MagneMover® Modular Track at Assembly Technology Expo



To Address Volume Manufacturing and Assembly Applications

Latest MagneMover® reference design uses high throughput capability and design flexibility to address the manufacturing requirements of some of the world's leading companies.

Acton, MA (September 7, 2007)

MagneMotion, a developer and manufacturer of assembly automation, material handling and
transportation solutions using electro-magnetic technology, today announced that it will unveil the latest version of its MagneMover modular material transport systems at the upcoming Assembly Technology Expo in Chicago. Based on the company's QuickStick(TM) Linear Synchronous Motor (LSM) technology, the new MagneMover track system is designed for assembly and manufacturing process applications that require accurate, high volume handling of materials and work in process. This represents the third design in the MagneMover series and the second in the Double Bogey or DB series.

The DB series was introduced earlier this year at the ProMat show in Chicago with 1.3 meter long, dual bogey vehicles designed to address transport applications involving larger unit loads, such as LCD flat panels or airport baggage. The new MagneMover reference design, to be introduced at the AT Expo, uses shorter, fast moving, 0.6 meter long vehicles and electro-magnetic switching to provide a highly flexible material transport platform for smaller loads. The system is compatible with MagneMotion's 100, 500 and 500HT QuickStick(TM) LSM products. Vehicle length can be changed to meet application needs.

MagneMotion has developed the standard MagneMover reference designs to offer customers the ability to adopt MagneMotion's revolutionary LSM technology without having to undertake a complete transport system design. The MagneMover system's one-meter turn radius allows it to fit into almost any floor plan. The new design targets automated assembly and manufacturing applications and features new, high density vehicle management capability which allows bumper-to-bumper vehicle advancement, queuing,
and indexing as well as MagneMotion's patent-pending electro-magnetic switching, allowing for instantaneous switching from one track spur to another without any form of mechanical actuation.

"This new MagneMover system that we will show for the first time at the AT Expo, is specifically geared for manufacturing and assembly operations that want a leg up on their competition," says Peter Mattila, Vice President of Sales and Marketing for MagneMotion. "We are excited that the QuickStick LSM technology embodied in the MagneMover platform is already gaining acceptance from some leading US manufacturing companies and we look forward to putting it through its paces in Chicago. There is nothing like this available on the market today and we expect a strong, positive response from industry when they see what this complete transport system can do to lower their manufactured cost, thanks to our QuickStick motors".

The MagneMover System is designed to accommodate a wide range of speed, acceleration and payload requirements, and is made up of modular track segments which can be placed end to end to form any desired track configuration. The system can be disassembled and reconfigured in a matter of hours in contrast to conventional material handling and transport systems that are inflexible and must be scrapped when production line changeovers occur. As there are typically no pneumatics, hard stops or external
sensors required with the MagneMover system, multiple products or processes can be run on the same line simply by activating an alternate software control routine.

About MagneMotion
MagneMotion provides the world's most advanced electromagnetic transport solutions. With roots at MIT, MagneMotion's scientists and engineers have captured the power of Linear Synchronous Motor (LSM) and Maglev technology to create faster, more efficient, longer lasting and more affordable automated manufacturing and transportation systems. The LSM technology is embodied in the company's QuickStick(TM) product line, a breakthrough in powering manufacturing and logistics systems, as well as in a new class of elevators developed for the U.S. Navy. Organization's ranging from the US military and government agencies, to Fortune 100® consumer goods companies, to leading automation systems integrators rely on MagneMotion for superior results.

Contact: Jim Olsen, Marketing Coordinator
Email: jolsen@magnemotion.com
Phone: 978-461-5090 x222
Fax: 978-461-5088
Web: www.magnemotion.com

More from Electronic Components & Devices