Track-Mounted Crusher goes to job site to crush stone.
Press Release Summary: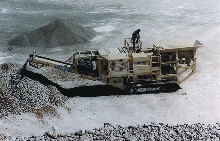 Able to handle hard abrasive stone, limestone, soft stone, and aggregates, product line includes: jaws; horizontal impactors, with open and closed circuits; vertical, closed-circuit, shaft impactors; cones; and screening equipment. Self-powered, portable crushers are fitted with vibrating grizzly feeders or feed hoppers, and are available in variety of models and sizes.
---
Original Press Release:

Track-Mounted Crushers from Pacific Rim Introduced Into North America with Full Product Line of Jaws, Horizontal Impactors, Cones and VSI


DEERFIELD BEACH, FL - - Track-mounted jaws, cones and impactors have been standard on the scene in Europe for many years, and have been arriving here over the past two (2) years. Pacific Rim Crushers, manufactured in England, now introduces their complete Track-Mounted line-up of Crushers to the North American market. A complete line that includes Jaws, Horizontal Impactors (open and closed circuits), Vertical Shaft Impactor (closed circuit); and soon to be introduced Cones (open and closed circuits) and Screening Equipment. All units are fitted with Vibrating Grizzly Feeders or Feed Hoppers, and come in a variety of models and sizes.

While track-mounted units were initially welcomed by contractors, site developers and recyclers - sand & gravel, quarries, asphalt crushing, and porta-crush contractors and rental houses are now lining up to get in on the track-mounted crusher revolution. The reason is simple. Track-crushers offer the ultimate in portability because they move and are easily transported like an excavator on tracks. They are fully self-powered (remotely if desired) and ready to crush within minutes of arrival to the site. No matter the job, hard-abrasive stone (Jaw); limestone and softer-less abrasive stone or recycling (Horizontal Impactor); or aggregate particle shaping (VSI), Pacific Rim Crushers have the right product to meet the needs.

All of the Pacific Rim Crusher plants are extremely competitively priced and will have product support through a network of experienced dealers, supported by a locally based spare parts warehouse, factory service and training (safety, maintenance, operation and sales). Pacific Rim Crushers of North America, will be managed in the U.S., by personnel, with many years of experience in the crushing and screening business.

For further information; the name of your local dealer, or interested in becoming a valued dealer, contact Pacific Rim Crushers of North American, Toll Free (866) 361-7394 or Fax (561) 361-7315 or E-mail at info@prcrushers.com. Visit our website at prcrushers.com.


More from Fasteners & Hardware