Track Lighting Fixtures suit low voltage applications.
Press Release Summary: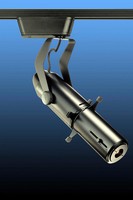 Available in 4 finishes and 3 models, Premier Low Voltage Adjustable Spot Track Heads are crafted of die-cast aluminum and have maximum extension of 6 11/16 in. Measuring 2¾ x 4¼ in., Model 815 accommodates MR16 halogen lamp at maximum of 50 W. Model 817 uses two 35 W MR16 halogen lamps and measures 2¾ x 7¾ in., while Model 819 accommodates MR16 halogen 50 and 75 W lamps and measures 3 1/8 x 2 5/8 in.
---
Original Press Release:

W.A.C. Lighting Presents Premier Low Voltage Adjustable Spot Track Heads



Garden City, New York---To deliver a variety of accent, display and wall wash applications using track lighting, W.A.C. Lighting presents Premier Low Voltage Adjustable Spot Track Heads. W.A.C. Lighting, a leading designer and manufacturer of track, recessed, undercabinet, decorative and monorail lighting, has received an ADEX Design Excellence Award for its Premiere Series of Low Voltage Adjustable Track Spots.

The low voltage track heads are crafted of die-cast aluminum for high durability and distinctive designs. They may be used with W.A.C. Lighting's three standard track systems and its 2-circuit track system, as well as other compatible tracks in the industry.

The #815 model features Black silicone accents to match the Black Transformer. The single-track head accommodates one MR16 halogen lamp at a maximum of 50 watts. The fixture is 2-¾ inches deep, 4-¼ inches wide, and has a maximum extension of 6 11/16 inches.

The #817 track head features Black silicon accents on the back of its dual track heads. The fixture uses two MR16 halogen lamps, each with a maximum wattage of 35. It has a total dimension of 2-¾ inches deep, 7 ¾ inches wide, and a maximum extension of 6 11/16 inches.

The #819 track head also features Black silicon accents on its back.
This track head is available in two styles-one accommodates the MR16 halogen 50-watt lamp and the second uses the MR16 halogen 75-watt lamp. The luminaire has a depth of 3 1/8 inches, a width of 2 5/8 inches width, and a maximum extension of 6 11/16 inches.

All three track fixtures are available in four handsome finishes:
Black, Platinum/Black, Platinum/White, and White.

Lens options include: Colored, Colored Dichroic, UV Filter, Frosted, Honeycomb Louver, Spread, and Beam Elongated.

About W.A.C. Lighting

W.A.C. Lighting has developed a stellar reputation for a high quality product line backed by an extraordinary level of service. Customer service features an unprecedented shipping record (96% of orders shipped within 48 hours), a state-of-the-art SAP software system; outstanding service professionals; updated product literature (including a new full-size catalog), and a strong lineup of point-of-purchase displays.

The firm also offers a west coast distribution center and offices in City of Industry, Calif., an expanded corporate headquarters and east coast distribution center in Garden City, NY, and a new state-0f-the-art showroom in Dallas.

Innovative and integrated systems technology are hallmarks of the W.A.C. Lighting product line. Most recently the firm has introduced a new Bronze finish in its Low Voltage Monorail System and Counter Balance Adjustables family, stunning blown-glass pendants, Flexrail1- a new line voltage monorail system, new undercabinet lighting fixtures, and more.

Its extensive line includes: Five Track Systems; a Low Voltage Monorail System; a Line and Low Voltage Recessed Line; Undercabinet Lighting; Crystal Beauty Spots; Wall Sconces; Pendants, Counter Balance Adjustables, Monopoints; Multipoints; State-of-the-Art Transformers; and accessories.

W.A.C. Lighting is headquartered at 615 South Street, Garden City, New York 11530. The phone is 1.800.526.2588, and the fax is 1.800.526.2585. The email address is info@waclighting.com and the website is www.waclighting.com

Related