Traceability in Ultrasonic Welding: Unique Device Identification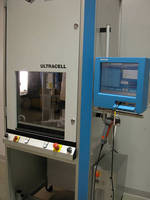 In order to improve patient safety, the FDA signed into law a Unique Device Identification (UDI) system. Although a national UDI system has not been created, the FDA is working on a timeline in order to have a national standard. In the mean time forward thinking manufacturers of medical devices are considering their options on how to meet this standard. Diligent process documentation is becoming increasingly important in the industry and has been a must for safety-critical parts for a long time. Recall campaigns are expensive and can damage a company's reputation. Today's sophisticated traceability systems enable advanced manufacturing companies to optimize production processes, record complex data and attain quality assurance in all stages of production.

Herrmann Ultrasonics provides a barcode scanner with specially developed software to accomplish the task of UDI. The system is suitable for the DIALOG series machine. Traceability is available for each individual weld process. Functions like part and batch identification as well as linking to previously stored weld parameters (memory selection) simplify machine operations. The flexible barcode system can also be used in production for weld process release, long-term archiving of process data and verification of part presence.

The BarcodeScan DIALOG software can be installed and freely configured (even retroactively) on the machine control unit. The scanner connects via the built in USB port on the DIALOG controller. Barcodes (1D) or DataMatrix codes (2D) can be read in. The barcode scanner is available as a robust hand-held unit or machine integrated version.

For the ultimate in traceability, a laser marking system can also be integrated with the welder. After a scan of the bar code, a production release signal can be given to the ultrasonic welder, to perform the next step in the manufacturing process. This may be to pull up a specific stored weld process depending on part configuration, color or other specific attribute. After the weld is complete, and if the results of the weld are within the established quality windows, the laser marker can permanently etch a number onto the part itself.

More from Services