Trace Moisture Analyzer can be used in specialty gas blending.
Press Release Summary: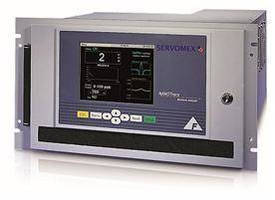 Optimized for measuring moisture in specialty gas stream, DF-745SG GasMax combines signal processing software and Tuneable Diode Laser Absorption Spectroscopy (TDL) technology. Moisture level reading accuracy performance is enhanced via drift-free operation, minimal maintenance, and no pump requirement. Engineered to deliver ultra-low detection limit (LDL) of 5 ppb, analyzer offers software designed for blending specialty gases with single gases and mixtures with up to 8 components.
---
Original Press Release:

New DF-745SG GasMax Sets the New Performance Standard for Moisture Analysis in Specialty Gas Blending Applications



Boston, MA – Ground-breaking advances in measurement technology and software control make the new DF-745SG GasMax from Servomex the most sensitive and flexible trace moisture analyzer available for Specialty Gas applications.



Building on the success of the original DF-745SG, the GasMax is a sophisticated process analyzer optimized for measuring moisture in a specialty gas stream. Combining advanced Tuneable Diode Laser Absorption Spectroscopy (TDL) technology with sophisticated Servomex signal processing software, the GasMax delivers exceptionally accurate moisture level readings with a performance enhanced by drift free operation, low maintenance and no requirement for a pump.



The GasMax is engineered to deliver an ultra-low detection limit (LDL) of just 5ppb, the lowest trace moisture measurement level available to Specialty Gas production without the additional set-up costs or ongoing expense of using a pump. 5ppb LDL means the GasMax delivers unprecedented measurement sensitivity at least twice as low as any comparable analyzer, enabling user product to achieve purity levels previously unavailable from a one-box analyser solution.



At the heart of the GasMax is powerful application software specifically designed for blending specialty gases with single gases and mixtures with up to eight components. An expanded database of 17 standard background gases now includes CF4, C2F6, C3F8, C4F8 and NF3; users can easily pre-define gas mixture templates for routine blends of up to eight (8) components or define a custom mixture using the front control panel. Servomex's advanced TDL spectroscopy also allows users to switch between the gases or blends without user calibration.



The GasMax features a completely redesigned interface for an improved user experience. Easy to view and navigate for users of any experience level, redesigned software means a new user can verify the operation of the analyzer. Real-time analysis and reference spectrums, displayed on the user interface, give greater user confidence in the measurement. Equipped to store detailed data identifying components and volumes in a mixture, as well as the date, time and moisture content of the blend, information can be displayed either via the inbuilt display or up to three months of historical data downloaded via USB.



Available in a nineteen-inch rack mount suitable for a fixed system and light enough for cart or other mobile requirements, the GasMax is now the leading choice for trace moisture analysis in all specialty gas production applications.



For more information about the DF-745SG GasMax, visit servomex.com/gasmax or contact the Servomex Americas Business Center (+1 281 295 5800), Asia Pacific Business Centre (+86 (0)21 6489 7570), European Business Centre (+31 (0) 79 330 1581 / 00800 737866390 / Toll free in France, Holland, Germany, Belgium and the UK),  India Business Centre (+91 22 3934 2700), Latin American Business Center (+55 11 5188 8166) and Middle East Business Centre (+971 6552 8073).



About Servomex Group Ltd

An acknowledged innovator in gas analysis technologies for more than 50 years, Servomex is the originator of and world leader in paramagnetic sensing technology and has an exceptional reputation in the development of zirconia, photometric and thick film technologies. The result is high-performance, cost-effective gas analysis, delivered through a portfolio of dependable products ranging from portable gas analyzers to complex process solutions.



Servomex has extensive experience of working with multi-national companies across a range of industries, ensuring our knowledge and expertise closely matches the requirements of our customers...



Servomex is part of Spectris plc, a leading supplier of instrumentation and controls to global markets.



For further information contact Joan Senior at Coda

E-mail: joan@codacomms.com / Tel: +44 (0)1202 721169

More from Construction Equipment and Supplies