TPE Molding Grades target automotive interior parts.
Press Release Summary: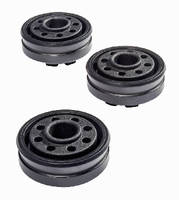 Available with hardnesses from 30 Shore A to 40 Shore D, general purpose Sarlink ML-1100 Series features specific gravity of 1.19. Sarlink ML-1600 Series, available with hardnesses from 40 to 90 Shore A, have specific gravity of 1.0. Both styrene block copolymer thermoplastic elastomers can be molded into complex, intricate geometries. UV-stable and resistant to abrasion and cracking, products are easily colored and exhibit low fogging and odor.
---
Original Press Release:

New Styrenic TPE Molding Grades for Auto Interiors Provide Higher Flow Than TPVS and Improved Cost/Performance Balance



Teknor Apex Expands Options for Molders of Parts like Knobs and Cup Holder Liners by Offering Styrenic TPEs in Its Sarlink® Range, Alongside Widely Used Sarlink TPVs



PAWTUCKET, RI, U.S.A., – In keeping with its mission of offering multiple compound choices for the same application, Teknor Apex Company has expanded options for injection molders of automotive interior parts by developing styrene block copolymer (SBC) thermoplastic elastomers (TPEs) with alternative cost/performance profiles to those of widely used thermoplastic vulcanizates (TPVs). The compounds will be introduced at Fakuma 2015 (Stand B5-5315).



Offered alongside TPVs in the company's Sarlink® range of elastomers, new Sarlink ML-1100 Series and ML-1600 Series styrenic TPEs are general-purpose and enhanced-performance offerings, respectively, and are both available in a wide range of hardness levels. Both series exhibit higher flow than comparable TPV grades, enabling them to be molded into more complex, intricate geometries and to improve cycles through reduced packing and cooling times. Particularly in applications where TPVs could be considered "over-engineered" with respect to performance requirements, the new styrenic TPEs also provide cost advantages.



Recommended by Teknor Apex for such automotive interior applications as bin mats, cup holder liners, and soft-touch grips for knobs and buttons, the styrenic TPEs are already in commercial use in applications for Chrysler, Ford, and General Motors. They are UV-stable, resist abrasion and scratching, are easily colored, provide good surface appearance and tactile properties, and exhibit low fogging and odor. Unlike many TPVs, they do not require pre-drying prior to molding. (See accompanying table for property data.)



The new series are:



Sarlink ML-1100. These are general-purpose grades that provide the best balance of cost and performance and are recommended for cost-sensitive applications. They are denser than comparable TPVs, with a specific gravity of 1.19. Compounds are available with hardnesses from 30 Shore A to 40 Shore D.



Sarlink ML-1600. With a specific gravity of 1.0, these grades are more similar to TPVs in terms of density and properties but offer a better cost/performance balance. With apparent shear viscosity values lower than those of Sarlink ML-1100 compounds, they exhibit even better flow properties. Compounds are available with hardnesses from 40 to 90 Shore A.



"While some automotive interior applications require the outstanding physical properties of TPVs, our new Sarlink ML-1100 and ML-1600 Series styrenic TPEs exhibit excellent performance in less demanding applications while providing advantages in cost and processing," said Jeffrey E. Dickerhoof, senior marketing and sales manager for the Thermoplastic Elastomer Division of Teknor Apex. "By offering both styrenic TPE and TPV elastomers, our goal is to help the customer to select the best possible material for an application, and we intend to extend this 'polymer neutral' approach by soon offering styrenic alternatives to TPVs in automotive exterior uses as well."



Sarlink ML-1100 and ML-1600 Series compounds are available worldwide in both black and natural formulations.



About Teknor Apex. Teknor Apex Company, a privately held firm founded in 1924, is one of the world's leading custom compounders of plastics.  Teknor Apex produces flexible and rigid vinyl, thermoplastic elastomers, nylons, toll and specialty compounds, color masterbatches, specialty chemicals, bioplastics and hoses. The company is headquartered in Pawtucket, RI, U.S.A. and operates thirteen facilities worldwide in the United States, the Netherlands, the United Kingdom, China and Singapore. To learn more visit: www.teknorapex.com.



The Thermoplastic Elastomer Division of Teknor Apex Company offers the broadest portfolio of TPE compounds available from a single source. The division compounds TPEs at eight locations in the U.S., Europe, and Asia under the brands: Elexar® (electrical and electronics applications), Medalist® (medical devices), Monprene® (consumer and industrial products), and Sarlink® (transportation).



READER INQUIRY INFORMATION: 



Americas:

Teknor Apex

505 Central Avenue

Pawtucket, RI  02861 U.S.A. 

Tel: 1-401-725-8000

Tel. from U.S. only: 1-866-GET-TPEs (1-866-438-8737) 

Fax: 1-401-728-5680

E-mail: tpe@teknorapex.com



Europe:

Teknor Apex, Mijnweg 1

6167AC

Geleen, Netherlands

Tel: 31 (0) 46-7020950

Email: eutpe@teknorapex.com 



Asia:

Teknor Apex Asia Pacific

41 Shipyard Road

Singapore 628134 

Tel: 65-6265-2544 

Fax: 65-6265-1821 

Email: apactpe@teknorapex.com 



Robert J. Martino

Martino Communications Inc.

8 Main Street / P.O. Box 379

Hastings-on-Hudson, NY 10706 U.S.A.

Tel: 1-914-478-0754

Email: bob@martinocommunications.com

www.martinocommunications.com



www.twitter.com/MartinoComm



More from Optics & Photonics