TPE Compounds provide UL94 V0-rated flame retardance.
Press Release Summary: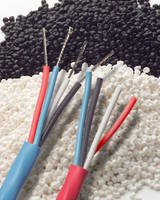 Available with Shore A hardness from 56-88, Telcar® TL-1934 Series TPEs are styrenic formulations used for insulation, jackets, and molded parts on flexible cords, coil cords, and cables. RoHS-compliant compounds feature dielectric constant of 2.4 and exhibit minimal dissipation losses. Offering rubber-like flexibility, oil-resistant formulations are suited for temperatures as low as -60°C and pass UL-1581 continuous rating of 105°C.
---
Original Press Release:
Four RoHS-Compliant TPE Compounds Provide UL94 V0-Rated Flame Retardance for High-Performance Cords, Cables, and Connectors
New Telcar® TL-1934 Series TPEs Provide Rubber-Like Flexibility over Wide Temperature Range for Appliance Wire, Flexible Cord, and Industrial Cable CLEVELAND, April 27, 2009: A new series of thermoplastic elastomer (TPE) compounds that is fully RoHS-compliant meets stringent UL criteria for flame retardance while providing flexibility and toughness over a broad temperature range, it was announced today by Teknor Apex Company. The company's Thermoplastic Elastomer Division is introducing the TPEs at Interwire 2009 (Booth 3800). The four Telcar® TL-1934 compounds are styrenic formulations available with Shore A hardnesses from 56 to 88. Teknor Apex recommends them for insulation, jackets, and molded parts for flexible cords, coil cords, and cables in power tools, appliances, industrial robots, welding equipment, and audio and lighting systems. Data on the new grades appear in the accompanying table. "Telcar TL-1934 compounds provide excellent flame resistance while meeting RoHS standards by containing no polybrominated diphenyl ether (PBDE) flame retardant," said Andy Claytor, sales director. "In addition, these products deliver excellent performance at temperature extremes and in outdoor environments, exhibit rubber-like flexibility, are oil-resistant, and are available in a broad range of hardnesses." Key characteristics of the new materials cited by Claytor include:
Enhanced flame retardance. All of the new Telcar grades meet UL94 V0 flame test requirements and have limiting oxygen indices from 26 to 29%.
Broad service-temperature range. The flexibility and toughness of the new Telcar compounds make them suitable for use at temperatures as low as -76 deg. F (-60 deg. C.). The grades are also formulated to pass a UL-1581 continuous rating of 105° deg. C.
Good electrical properties. The new Telcar compounds have a dielectric constant of 2.4 and exhibit minimal dissipation losses, making them suitable for data/communication and other low- to medium-voltage wire and cable applications.
Oil-resistance. The new TPEs pass a 7-day test for oil-resistance. The THERMOPLASTIC ELASTOMER DIVISION of Teknor Apex Company is a leading manufacturer of TPE compounds, including Elexar(TM), Monprene(TM), Telcar(TM), Tekbond®, Tekron(TM), and Uniprene(TM) products. Headquartered in Pawtucket, Rhode Island, U.S.A., the Division is an international supplier to the appliance, automotive, construction, medical-device, wire and cable, and other industries. Other plastics businesses of TEKNOR APEX include the Vinyl Div., Chemical Div., Specialty Compounding Div., Teknor Color Company, Chem Polymer, Singapore Polymer Corp., and Teknor Apex Suzhou. Visit the web site: www.teknorapex.com. READER INQUIRY INFORMATION: Americas: Teknor Apex, 505 Central Avenue, Pawtucket, RI 02861 U.S.A. Tel:1-401-725-8000. Tel. from U.S. only: 1-866-GET-TPEs (1-866-438-8737). Fax: 1-401-728-5680. E-mail: tpe@teknorapex.com. Europe: Chem Polymer Ltd., Tat Bank Road, Oldbury, West Midlands, England B69 4NH. Tel: 44-121-665-2100. Email: eutpe@teknorapex.com. Asia: Singapore Polymer Corporation, 41 Shipyard Road, Singapore 628134. Tel: 65-6265-2544. Fax: 65-6265-1821. Email: apactpe@teknorapex.com.
More from Material Handling & Storage