TPE Alloys are suited for replacing silicone and PVC.
Press Release Summary: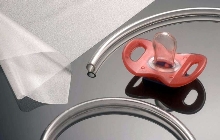 Featuring water-clarity and heat resistance, VERSAFLEX® CL 2200 TPE (thermoplastic elastomer) alloys are supplied as injection-moldable pellets with 42 and 50 Shore A hardness. They offer bite and tear resistance, making them suitable for infant care and kitchenware products that require boiling and/or cleaning in hot dishwashers. Also suited for toys and tubing, they can be used in overmolding applications with polypropylene substrates.
---
Original Press Release:

At June 2005 MD&M Show, GLS Corporation to Introduce New Versaflex TPE Alloy Line as Ideal Replacement for Silicone and PVC


Water-Clarity and Enhanced Heat Resistance Makes TPE Ideal for Infant Care, Toy, Tubing and Kitchenware Applications, Among Others

McHenry, IL (DATE) - Designers and molders of baby care, toys, tubing, kitchenware and dozens of other products now have a new material alternative to costly and limiting silicone compounds and PVC (polyvinyl chloride). Newly introduced at the June 2005 MD&M Show, GLS VERSAFLEX® CL 2200 TPE (thermoplastic elastomer) alloys are engineered to meet the special concerns of product designers in numerous markets. Adding to the appeal of this new TPE alloys are their special properties that include water-clarity and enhanced heat resistance.

GLS Corporation will occupy Booth #1843.

In the past, most TPEs fell short in terms of required performance, notably for a single TPE compound to offer both clarity as well as heat resistance in a single grade for infant care and kitchenware products that require boiling and/or cleaning in hot dishwashers. These inadequacies prevented product designers and product manufacturers from considering TPEs for these higher performance applications, and most notably, for silicone or PVC replacement applications.

This new TPE alloy line was developed as a direct response to industry requests worldwide for lower cost and more versatile TPE alternatives to high cost silicone as well as to PVC whose properties often fall short. The new series is specifically engineered to overcome silicone, PVC and other TPE shortcomings.

Specifically, the new VERSAFLEX CL 2200 TPE alloys are not only water-clear and offer enhanced heat resistance (excellent boil resistance), but additionally provide high bite and tear resistance characteristics, a prerequisite for many infant care and many medical products. Further, they are ideally suited for overmolding applications with polypropylene (PP) substrates.

The injection-moldable pellets, available in 42 and 50 Shore A hardness, are ideal for silicone material replacement and offer processors the ability to consolidate components through overmolding techniques, while reducing materials costs. In addition, no special equipment is required for processing these TPEs. The VERSAFLEX CL 2200 series features a low specific gravity and special ease of processing owing to their high melt flow properties.

GLS Corporation specializes in the manufacturer of application-specific custom formulated soft and ultra-soft thermoplastic elastomers (TPEs) for injection molding and extrusion. GLS has supplied specialty TPEs to the industry since 1979, and is recognized as a global leader in TPE technology solutions. Specific products sold by GLS include proprietary DYNAFLEX® TPE compounds based on KRATON® polymers (available in injection molding and extrusion, as well as medical and FDA grades); VERSAFLEX® TPE specialty alloys (available in soft touch, lightweight, ultra-soft, ultra-clear and overmolding grades); VERSALLOY® TPV alloys; and VERSOLLAN(TM) TPU alloy compounds. GLS is also the exclusive distributor of KRATON® compounds and polymers for the compounding market in the United States, and also distributes KRATON compounds and polymers globally. Applications for these materials are found in consumer, medical, sports and leisure, automotive, lawn and garden, appliance, kitchen tool, power tool, personal care and industrial markets, among others.

In the U.S., contact: GLS Corporation, Marketing Department, GLS Corporation 833 Ridgeview Drive, McHenry, IL 60050-7050. Telephone: (815) 385-8500 or (800) 457-8777. Fax: (815) 385-8533. E-mail: info@glscorp.com Web: www.glscorp.com.

In Europe, contact: Mr. John Simons, Business Development Manager, GLS International, Inc., P.O. Box 19, 4410 AA Rilland, The Netherlands. Tel: 31 113 551 093. Fax: 31 113 551 094. E-mail: jsimons@glscorp.com. Web: www.glscorp.com.

In Asia, contact: Mr. Wing Lau, Business manager, GLS Hong Kong Ltd., Room 5, 5/F, Block B, Veristrong Industrial Centre, 34-36 Au Pui Wan Street, Fo Tan, Shalin, N.T., Hong Kong. Tel: 011 852 2690 5330. Fax: 011 852 2690 5223. E-mail: wlau@glscorp.com. Web: www.glscorp.com.

DYNAFLEX, VERSAFLEX and VERSALLOY are registered trademarks of GLS Corporation.

DYNAFLEX compounds contain KRATON Polymers.

KRATON is a registered trademark of KRATON Polymers U.S. LLC.

VERSALLOY is a DSM - GLS alliance product; the name VERSALLOY is a trademark of GLS Corporation.

VERSOLLAN is a trademark of GLS and contains high performance thermoplastic urethanes.

More from Electrical Equipment & Systems