Automated Guided Vehicle Systems
Toyota Industries' Automated Guided Container Transport System Named '2012 Good Design Best 100'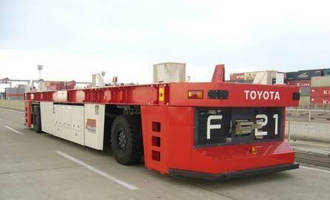 IRVINE, Calif. - Toyota Industries Corporation (TICO) announced that its Automated Guided Container Transport System has been selected for the 2012 Good Design Best 100, the world's most prestigious global awards recognizing new product design.

The Good Design Awards, established by the Japan Institute of Design Promotion (JDP), recognize designs that positively impact lifestyle, industry and society in general. The awards showcase designs that are both effective in form and function. Toyota's Automated Guided Container Transport System was selected from a pool of 3,000 global entries and honored for its new design that fuses hardware and software elements. According to one judge's comment, "The Automated Guided Container Transport System is a perfect example of fusing the design of a physical object with the design of a social system (structure)." As an award finalist, Toyota's design is a candidate for the "Gold" Award which will be announced on November 25.

AGV's Award-Winning Design

Toyota's new product automates transport work in storage yards and leverages the software technology to help synchronize and optimize overall loading and unloading operations. The AGV deployment system enables efficient dispatch of AGVs in conjunction with other cargo-handling equipment such as gantry cranes in operation at the container yard. The end result is increased productivity through a reduction of idle time of cranes and container trailers. Full-scale automated operations were first implemented in early 2012 by the Tobishima Container Berth Co., Ltd. at the Port of Nagoya, Asia's only automated terminal.

Toyota's AGV History

Toyota began importing AGVs to the U.S. in early 2007. With more than 20 years experience in the Asian market, there are more than 5,000 Toyota AGVs in operation in the world today. In North America, Toyota Material Handling, U.S.A., Inc. (TMHU) offers AGVs with capacities ranging from 250- to 10,000-pounds, which are designed for small and large loads and ideal for companies looking to increase handling volume without increasing operational staff. TMHU offers a variety of AGV products including the customizable L-cart AGV and the Tug-Cart Mouse. Toyota's system features multiple path programming, retractable towing pin, remote communication, and multiple safety items including optical sensors that can be programmed for different zones to allow safe operation near pedestrians and in confined spaces. Toyota AGVs follow a self-adhesive magnetic tape, which makes setup simple and requires no floor modifications.

About Toyota Industries Corporation (TICO)

TICO was founded in 1926 by Sakichi Toyoda. Since that time, TICO has promoted diversification and expanded the scope of its business domains to include textile machinery, automobiles (vehicles, engines, car air-conditioning compressors, etc.), material handling equipment, electronics, and logistics solutions.

About Toyota Material Handling, U.S.A., Inc.

Celebrating its 45th year in business in North America, TMHU is the supplier for the number one selling lift truck in America since 2002. In addition to the full line of high-quality lift trucks sold under the Toyota brand, the company's extended industrial equipment solutions include Automated Guided Vehicles and tow tractors.

Quality is the hallmark of the Toyota Production System practiced at all Toyota manufacturing facilities, including TIEM. Named a 2011 North American Best Plant by IndustryWeek magazine, TIEM is a member of the National Safety Council, complies with the ISO 14001 standard from the International Organization for Standardization and has produced more than 400,000 Toyota lift trucks since it opened in 1990.

Toyota's commitment to excellence in customer service extends throughout the U.S. and Canada. With more than 70 authorized Toyota Industrial Equipment dealers and more than 220 dealership locations throughout North America, Toyota dealers offer comprehensive customer service and support, including one-stop shopping for both new and used lift trucks, rentals, parts and service, fleet servicing and financing. For more information on TMHU, please visit www.toyotaforklift.com, www.facebook.com/ToyotaForklift or twitter.com/ToyotaForklift or call 1-800-226-0009.

More from Software