Toyoda Machinery Showcases New Inverted Vertical Turning Center at CMTS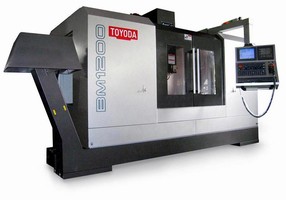 Arlington Heights, IL - In addition to its vertical, horizontal and grinder technology, Toyoda Machinery will introduce its newest machine line at CMTS, October 15-18. Toyoda technology will be on exhibit with the company's new Canadian distributor, Elliott Matsuura, in booth #3600.

Toyoda's new Inverted Vertical Turning Centers deliver high productivity, reliability and ease of use. The traveling inverted spindle allows for direct part pick up and delivers a significant improvement over other chip management designs. A mono-block polymerized concrete-filled, steel fabrication base delivers maximum vibration dampening and rigidity.

Toyoda's horizontal SX Series has a 40 horsepower, 6,000 rpm spindle (with a 15,000 rpm spindle option). The high-performance spindle has double the driving force on the Y axis, with a ballscrew and motor on each side of the spindle. A newly designed column helps support the spindle's cutting power, maintain accuracy in hard ferrous materials, and maximize tool life and performance. The new machines are available with 550 mm or 630 mm pallet sizes. The table load capacity is 2,860 lbs.

Toyoda will also showcase its GE4 cylindrical grinder, designed for highly precise automatic grinding of small lots. Its simplified programming makes using the GE4 a smooth transition from operating a hydraulic or manual grinder, while improving part throughput and accuracy. The conversational GC32S control teaches the user to create a program with a step-by-step format. Selection of feeds and speeds is automatic. Minimal data input dramatically reduces set up time, and automatic grinding is possible from the first work piece.

The BM-1200 vertical machining center delivers superior performance for heavy-duty machining of ferrous materials. The rigid iron base is paired with four Y-axis box guideways to eliminate saddle overhang while the extra-wide column expands machining capability. Many high-torque and direct-drive spindle configurations are available in CAT 40 or CAT 50 tapers.

Visit Toyoda Machinery and Elliott Matsuura at CMTS booth #3600 to talk with industry experts, watch live product demonstrations and learn how you can reach new manufacturing heights.

Toyoda Machinery is one of the largest machine tool manufacturers worldwide. Toyoda is an engineering-driven company that builds, supplies and services flexible machining systems, horizontal and vertical machining centers and grinding machines. Toyoda Machinery headquarters is located in Arlington Heights, IL. The Automotive & Special Machines Division is located in Detroit, MI. For more information call 847-253-0340 or visit www.toyoda.com.


More from Thermal & Heating Equipment