Tower Manufacturing Machine processes angle sections.
Press Release Summary: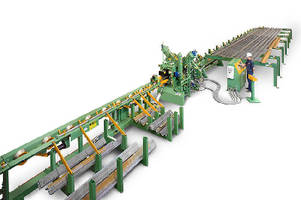 Capable of processing 8 x 8 x 1 in. angles, APS-2063 Towermaster provides 112 tons of punching power with max hole diameter of 1½ in. With triple tool punching in each leg of angle iron, users can process up to 3 different sizes and shapes in each piece of material with no need for tool change. Machine offers automated material loading and staging areas, high-speed material approach of 300 fpm, 506 ton shearing capacity, and part stamping system capable of holding over 30 characters.
---
Original Press Release:

Peddinghaus Releases the New APS-2063 Towermaster for Stimulus Driven Shops



The latest innovation of an industry icon for processing heavy angle sections is the solution for infrastructure projects.

Peddinghaus recently released the all new APS-2063 Towermaster for High Speed Angle processing. Today's popular infrastructure projects are giving fabricators opportunities that demand large amounts of heavy angle sections such as transmission and Utility towers. These projects are creating large returns for those able to tackle the job; however few are truly up to the challenge.

The APS-2063 is the latest in high speed angle technology and offers fabricators the capability to process 8x8x1" (200x200x25 mm) angle with ease.

The Peddinghaus APS-2063 Towermaster boasts features that include:

o Triple Tool punching in each leg of angle iron - process up to three different sizes, and shapes in each piece of material with no need for tool change

o Maximum hole diameter of up to 1-1/2" (38 mm)

o 112 (101 metric) tons of punching power

o Automated material loading and staging areas

o A powerful, precision measurement system

o High speed material approach of 300 FPM (100 MPM)

o High speed part stamping system capable of holding up over 30 characters

o A unique upward stroking shear for higher speed shearing and superior cut quality utilizing a powerful 506 (459 metric) ton shearing capacity

o Automated part unloading system - organize parts automatically without operator intervention

Recently a $1.7 Billion dollar power line project was given approval in Minnesota. This project will cover the entire state, linking power lines to resources in North Dakota, South Dakota, as well as Wisconsin and will not be the last of its kind. Projects like this will continue to gain popularity and work will persist to be available now and into the future. The Towermaster offers the competitive edge fabricators need in the modern infrastructure market.

If you would like more information regarding the Peddinghaus APS-2063 Towermaster please contact Nick Hajewski at 815/937-3800 or e-mail Nick-Hajewski@peddinghaus.com

Contact: Nick Hajewski

Tel. 815/937-3800 Ext. 206

Email: Nick-Hajewski@peddinghaus.com

More from Packaging Products & Equipment