Towable Compressors meet requirements of Stage IIIB emissions.
Press Release Summary: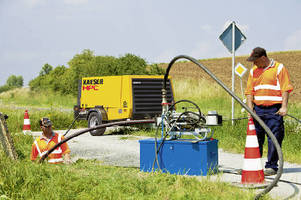 Powered by 85 kW engines, Models M114 and M115 provide free air deliveries up to 342 cfm at 10 bar. M114 is available in 10, 12, and 14 bar versions and is powered by Deutz engine with oxidation catalytic converter. M115, available in 7, 8.6, 10, 12, and 14 bar versions, features Kubota engine and diesel particulate filter. Both are equipped with SIGMA Control Smart controller which provides valuable operational data including maintenance due alerts.
---
Original Press Release:

Towable Compressors are Compact, Powerful and Energy Effcient



Providing a dependable, efficient and environmentally-friendly source of quality compressed air in a compact, towable unit are the important benefits of two new portable compressors introduced by HPC KAESER. Compact and simple to operate, the M114 and M115 portable compressors are both powered by 85kW engines and deliver similar free air deliveries up to 9.7 m³/min (342 cfm) at 10 bar.



Both compressors meet the requirements of the Stage IIIB emissions as standard and feature the recently developed SIGMA Control Smart controller which provides users with valuable operational data including maintenance due alerts. The M114 is powered by an efficient Deutz engine equipped with an oxidation catalytic converter, whilst the M115 features a new generation Kubota engine and a diesel particulate filter.



The M114 is available in 10, 12 and 14 bar versions and can be equipped with various compressed air treatment options to suit a range of applications. For example, a compressed air after-cooler and centrifugal separator along with filters, and / or plate heat exchangers for reheated or dried compressed air.



With a new chassis design and further optimised compressed air treatment features, the M115 is available in 7, 8.6, 10, 12 and 14 bar versions. A new axial condensate separator is installed downstream from the compressed air after-cooler and the separated condensate is re-evaporated via the hot engine exhaust gases. Furthermore, if the reheating option is chosen, the compressed air discharge temperature can be regulated, which is especially useful for surface blasting applications.



There is also the option of a more powerful generator (8.5 or 13 kVA) which upgrades the M115 compressor into an even more powerful portable unit if required



In addition to the towable, chassis-mounted models which include a run-on brake and fixed tow-bar, there are stationary versions of both models also available.



Further information available here:

http://www.hpccompressors.co.uk/press-release-detail.asp?linkID=1250856728_Press_Rele&UID=1418125559_New_M114



Or from: Mark Sharman, HPC Compressed Air Systems   

mark.sharman@hpcplc.co.uk

www.hpccompressors.co.uk

Victoria Gardens, Burgess Hill, West Sussex RH15 9RQ, UK.

Tel: +44 (0) 1444 241671

More from Sensors, Monitors & Transducers