Tow Bars and Hitch Pins have heavy-duty design.
Press Release Summary: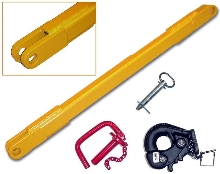 Suited for railroad equipment, tow bars feature square-tube design and are offered in 5 sizes from 42 in. to 22 ft long. Zinc-plated pin-lock has ergonomic, folding handle and includes steel hairpin cotter. Painted red for visibility, clevis combination handle/restrainer keeps pin securely in tow bar and features ergonomic, hinged, fail-safe handle. Rigid-mounted pintle hook, made of forged steel, makes positive, secure connections and handles loads from 30,000-90,000 lb.
---
Original Press Release:
New Heavy-Duty Tow Bars and Hitch Pins are Stronger, Safer and More Durable for Railroad Carts and Machinery
The Nolan Company's new lines of heavy-duty tow bars and hitch pins for railroad maintenance-of-way equipment are designed for strength, durability and safety. Nolan manufactures five standard tow bar sizes, ranging in length from 42 inches to 22 feet. The tow bars' construction--with square-tube design for added strength--will handle the heaviest loads. Nolan's 10-foot model has a 1-3/16-inch connecting hole; other models' have a 1-1/4-inch connecting hole. Custom tow bars can be made in a specific length, or to match the customer's design or specifications. Three types of hitch pins are available from Nolan. The standard zinc-plated pin-lock has an ergonomic, folding handle and includes a precision-machined, high-strength-steel, hairpin cotter. Nolan's clevis--a combination handle/restrainer--keeps the pin securely in the tow bar. Its ergonomic, hinged, fail-safe handle allows one-hand operation and provides more leverage for easier removal. The clevis includes a 10-inch securement chain and is painted red for high visibility. For extra-heavy-duty loads and conditions, Nolan's rigid-mounted pintle hook is easy to use and makes positive, secure connections. Three models are made of high-strength forged steel and will handle gross trailer loads from 30,000 to 90,000 pounds. The Nolan Company manufactures rail products for railroads, industry, mines and quarries. For more information, contact The Nolan Company, 1016 Ninth Street SW, Canton, OH 44707. Toll-free 1-800-297-1383. Toll-free fax 1-800-225-0984. E-mail [email protected]. Visit our website, www.nolancompany.com.