Tough Guy RLS Magnetic Rotary Encoders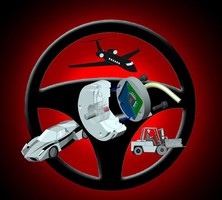 Non-contact solid-state RLS encoders provide frictionless, zero-wear, "fit and forget" reliability

March 2007- Ideal for positioning control in steer-by-wire systems, solid-state RLS magnetic rotary encoders from Renishaw combine high-performance capabilities with affordability, go anywhere environmental ruggedness, and great application versatility. Selected for by-wire systems in automobiles, off-road vehicles, lift equipment, aircraft, military weapons and marine vessels, the non-contact, solid-state encoders are available in 7-bit to 13-bit models and industry-standard absolute, incremental or linear output formats. The RLS magnetic encoders deliver high-resolution positioning (up to 8,192 count per revolution), speeds to over 60,000 rpm, measurement accuracies to 0.4°, while withstanding temperatures from -40°C to +125°C and high levels of shock, vibration, acceleration, and pressure. Breakthroughs in solid state simplicity, essentially just a magnet and chip, the non-contact designs provide frictionless, zero-wear, low-inertia operation for "fit and forget" reliability, while compact design allows space savings, design flexibility, and ease of integration.

The magnetic encoders provide a "tough guy" alternative where optical angle glass encoders cannot be used due to demanding environmental conditions, plus require half or less the power. Compact sealed versions are also available with protection to IP68 for harsh environments, including immersion applications (e.g., pumps and gearboxes). Two-in-one models feature a backup chip for critical situations requiring redundant capabilities.

Easy to integrate, the RLS magnetic encoders come in component, modular and packaged versions, and absolute or incremental (1,024), analog, linear voltage or linear current output versions. Absolute encoders are available in 7-bit (128 counts per revolution incremental) to 12-bit (4096 count) resolution in parallel or serial data formats, while incremental output options include digital (128 ppr), analog, linear voltage and linear current modes. Supply voltage is either 5V or 24V, depending on encoder/output format. The linear voltage or current output options can be used in traditional potentiometer applications.

Exceptional design flexibility fits a wide range of industries and applications. Designers who require the smallest possible encoder can incorporate encoder components or modular solutions into their own design. Packaged versions are available in non-contact (RM) versions or traditional bearing/shaft reformat (RE).

At the heart of every Renishaw magnetic rotary encoder are two core components - a small diametrically polarized magnet and a custom Hall sensor ASIC which contains an array of Hall effect sensors that generate a voltage when exposed to a magnetic flux field. The Hall sensors detect the change in magnetic flux as the magnet rotates above the ASIC. Through creative design, the ASIC is able to cancel magnetic interference, enabling it to operate in areas of high external magnetic fields and cope with imperfections in the shape of the flux field of the actuating magnetic.

As with all Renishaw's products, a worldwide application support network and local inventory stocking bring added confidence to system developers.

For more information on Renishaw miniature magnetic encoders, contact Howard Salt, business manager-encoder systems, Renishaw Inc., 5277 Trillium Boulevard, Hoffman Estates, IL 60192. Phone 847-286-9953; fax 847-286-9974. Email: howard.salt@renishaw.com

For a detailed look at other productivity enhancements for metrology, linear and rotary position feedback, and machine tool calibration, visit Renishaw's web site at: www.renishaw.com

Inquiries should be directed to: Susan Wilm, marketing assistant, Renishaw Inc., 5277 Trillium Blvd., Hoffman Estates, IL 60192.

Related