Computer and Communication Terminals
TouchStar® Selects TREQ®-VMx Mobile Data Terminal by Beijer Electronics for In-Cab FLEX(TM) Mobile Computing System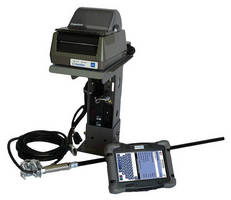 SALT LAKE CITY, UTAH – TouchStar, a leading mobility software provider for the oil and gas, field services, consumer goods and transportation industries, has chosen the TREQ®-VMx mobile data terminal by Beijer Electronics as a critical component of its rugged in-cab, FLEX™ fleet automation system. The FLEX is a rugged, fixed-mount system that provides electronic ticketing, invoicing and signature capture. Drivers communicate with accounting, planning and dispatch systems using the portable TREQ-VMx mobile data terminal. Other key solutions the FLEX system offers include workforce and fleet scheduling, paperless eCommerce, route logistics and navigation, driver eLog and compliance administration, telematics and behavior management, and advanced back-office data integration.



The FLEX system is available in multiple configurations, typically including a 4" thermal printer, a TREQ-VMx, rugged mounting hardware and TouchStar's mobility software. The portability of the TREQ-VMx allows drivers to remove the terminal from its mounting and take it outside the truck to capture signatures at time of delivery. Drivers also have the capability to take pictures for data logging with a built-in camera. 



"Our customers were asking for a rugged in-cab terminal that was also portable and easily transferable between vehicles," said Dave Fredricks, Sales Manager at TouchStar. "We chose the TREQ-VMx for our FLEX system because it not only features a large, 7" color, touch-screen display and WiFi capabilities, it also is highly portable while still demonstrating extreme durability."



The TREQ-VMx includes a 3G UMTS/HSPA+ or CDMA/EV-DO modem, an integrated GPS receiver and J1708/J1939 (CANbus) interface.  Additionally, the TREQ-VMx features a bright, LED lighted, 800 x 480 WVGA, 7" LCD display with touch screen, 10/100Base-T wired Ethernet, 802.11b/g/n WiFi, one EIA-232/422/485; one EIA-232, five USB 2.0 high-speed host ports, lithium-polymer battery, extended operating temperature ranges of -20 to 60 °C and Windows® Embedded CE 6.0 R3 operating system.



"Working with TouchStar has been very enjoyable, and we feel like our products really complement each other," said Dar Peterson, Vehicle Product Manager of Beijer Electronics. "The rugged hardware and portability of our TREQ-VMx matches perfectly with the extremely durable TouchStar in-cab, FLEX mobile computing system." 



For more information about the complete line of TREQ mobile data terminals, visit www.beijermdt.com.

 

About TouchStar

TouchStar develops mobile computing and automated field force solutions for a broad range of industries, including Oil & Gas, Field Services, Consumer Goods, and Transportation/Fleet Management, across a multi-national marketplace.  Primary offices encompass mobility software development and applications facilities in Tulsa, Oklahoma and Sydney, Australia, and two sales/support offices in Auckland, New Zealand and Montreal, Canada.



With over two decades of field automation experience and over 30,000 successful installations worldwide, TouchStar is a global innovator in advanced enterprise mobility solutions.  For more details, visit www.TouchStarGroup.com, or call 918-307-7180.



About Beijer Electronics

For over thirty years, Beijer Electronics has designed and manufactured human machine interface (HMI) products for industrial OEMs and vehicle systems integrators.  Products include automation software, operator panels, industrial/panel PCs and environmentally-rugged QSI™ HMIs and TREQ® mobile data terminals.



Since its start-up in 1981, Beijer Electronics has evolved into a multinational group present in twenty-two countries.  Beijer Electronics is listed on the NASDAQ OMX Nordic Exchange Stockholm's Small Cap list under the ticker BELE. For more information, contact Beijer Electronics, Inc. at 801-466-8770 or visit www.beijerelectronicsinc.com.

Related