Touchscreen Panel PC utilizes Power over Ethernet technology.
Press Release Summary: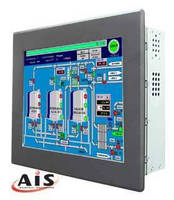 Powered by 1.6 GHz Intel® Atom Z530 processor, 10.1 in. PoE Panel PC supports IEEE 802.3at standard for up to 25 W power transmission. Fanless unit features LED backlit LCD panel, 4-wire resistive touchscreen, and 20 W total power consumption. Operating from -25 to 55°C, PC is housed in industrial steel chassis that protects components from harsh industrial environments, and is suitable for home automation systems, HVAC control, lighting management, and building control and security.
---
Original Press Release:

AIS Releases a Power over Ethernet (PoE) 10.1" Touchscreen Panel PC for Energy Efficient Green Building, Home Automation Systems, and Control Applications



IRVINE, CA -- American Industrial Systems Inc. (AIS), has unveiled a new 10.1" Power over Ethernet (PoE) Touchscreen Panel PC powered by an Intel® Atom Z530 Processor for ultra-low power consumption. Power over Ethernet or PoE technology describes a system to safely transfer electrical power, along with data, to remote devices over standard category 5 cable in an Ethernet network. It does not require modification of existing Ethernet cabling infrastructure. The unit supports the latest POE standard IEEE 802.3at for up to 25 Watt power transmission capability. AIS' fanless PoE Panel PC utilizes an ultra low power Atom processor, LED backlit LCD panel, and PoE technology, packaged into a compact form factory which is easily deployed into buildings for home automation systems, Heating Ventilation and Cooling (HVAC) control, Lighting Management, Building Control and Security.

By automating more and more of building systems including heating, cooling, water, and power, users can save 15% or more on heating and electric bills. Additionally PoE significantly reduces the need for electricians to install conduit, electrical wiring, and outlets throughout the enterprise. With PoE only one cable - a simple CAT-5 Ethernet - is required. Estimates of cost savings using PoE range from $500 to $1,000 per port. In larger settings, this represents a major cost reduction. PoE increases the overall reliability since PoE networks have fewer wires, there is less likelihood of an inadvertent power disruption (accidental shut off, etc). With an Uninterrupted Power Supply (UPS) power to the devices is assured during a power failure.

AIS 10.1" Energy Efficient Panel PC features a 4 wire Resistive Touchscreen, wide temperature -25 deg C. to 55 deg. C operating capability, LED backlight LCD Panel, and a 20W total power consumption. Everything is packaged within a rugged industrial steel chassis, protecting the components from harsh industrial environments and high reliability. Long life cycle industrial grade components are utilized for high reliability and long availability. Standard VESA 75mm spaced mounting holes are available on the rear and additional mounting clips are included for easy mounting to any fixture or wall. AIS' new PoE Panel PC provides a solution for companies looking to go green, increase their operating efficiency, reduce expensive cabling costs, and reduce their power consumption footprint.

MSRP Pricing Starting at: $999 for AIS' 10.1" PoE Panel PC

Features and Benefits:

o Intel® US15W Chipset

o Intel® Atom Z530 Processor 1.6 GHz

o Lower Power Consumption and Fanless Operation

o Supports IEEE802.3at Power Over Ethernet (PoE) standards

o 10.1" LED Backlit LCD Panel

o 4 Wire Resistive Touch Capable

o Wide Operating Temperature Capable: -25 deg. C to 55 deg. C

o Industrial Grade components for High Reliability and Product Life Cycle

o Rugged Steel Housing

o Slim form Factor

o Designed for 24/7 Continuous Operation

About American Industrial Systems, Inc.

AIS is a leading global designer and manufacturer of specialty industrial panel pc, industrial display, digital signage, and rugged tablet pc solutions for customers in the broadcasting, engineering & construction, gaming & entertainment, medical & healthcare, leisure & hospitality, mining, network & telecommunications, network security, oil & gas, petroleum, pharmaceuticals, pipelines, public & private educational services, railroads and retail markets. AIS specializes in designing and manufacturing cost-effective LCD and embedded computing products for the industrial market, as well as ODM/OEM applications worldwide. Whether your vision involves off-the-shelf displays or highly customized embedded computing solutions, AIS can supply the experience, technology, and resources you need to build it right and get you to market first. For additional information on AIS products and services, please call AIS toll-free at (888) 485-6688 or visit: www.aispro.com


More from Fluid & Gas Flow Equipment