Computer and Communication Terminals
Touchscreen offers true flat front surface.
Press Release Summary: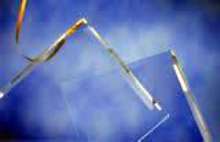 IntelliTouch Super Flat Profile (SFP) touchscreen utilizes patented grating technology to achieve 100% flat front surface. It features narrow borders around active touch-sensitive area, scratch resistant surface, and flat cabling system. Surface wave touch technology enables touch to be initiated with a finger, stylus, or gloved hand and screen is not subject to false touches from vibration. Operation is stable and drift-free, requiring no recalibration.
---
Original Press Release:

Elo's New Super Flat Profile Touchscreen's Advance Surface


One-hundred Percent Flat Surface Eases Integration

MENLO PARK, CALIFORNIA (January 25, 2005) - Elo TouchSystems, Inc., the global leader in touch technology and a business unit of Tyco Electronics, is shipping its new range of Super Flat Profile (SFP) touchscreens that extend the company's proven IntelliTouch pure glass surface wave touch technology.

Elo's IntelliTouch SFP touchscreens use Elo's recently patented grating technology to achieve distinct advantages; a true flat front surface that smoothes out the bumps of integration, narrower borders around the active touch-sensitive area, and a new flat cabling system. All help enable the touchscreen to fit into tighter form factors than before. The IntelliTouch SFP touchscreen is the ideal choice for applications in the retail, industrial control room, medical image management, finance, gaming, and hospitality markets.

"Elo was the first in the world to introduce pure glass touchscreen technology for superior optics, reliability, stability, and light transmission," says Mike Sigona, Elo market manager. "Now we take another step forward with our recently patented grating technology. The new IntelliTouch SFP touchscreens have the sensing transducers mounted on the back of the glass so that the touchscreen is one-hundred percent flat, making integration much easier."

All the Benefits of IntelliTouch Technology

"The IntelliTouch SFP touchscreen represents Elo's continued investment in its touch technology and in the future," says Frank Lung, Elo product manager. "It provides all the benefits customers have come to associate with IntelliTouch surface wave touch technology. For example, even quick light touches are registered precisely at a tight 4,000 by 4,000 resolution.

Operation is stable and drift-free-no recalibration is needed over time-and the touch surface is scratch resistant, as there are no metallic or plastic coatings." According to Lung, IntelliTouch surface wave touch technology offers these additional benefits: touch can be initiated with a finger, stylus or gloved hand; multiple touches are never averaged; operation is not subject to false touches from vibration; a new touch can be distinguished even when there are other touches present on the screen; and dragging characteristics are excellent. Lung adds, "In addition to the standard 'X' and 'Y' axes, IntelliTouch touchscreens even include a 'Z' axis for pressure, and they can be sealed watertight-so not only are they
drip-free, but the glass substrate is resistant to dirt, contaminants, and all common cleaning fluids."

Elo TouchSystems, Inc., the global leader in touch technology, is a business unit of Tyco Electronics. Elo develops, manufactures, and markets a complete line of touch products that simplify the interface between people and computers in both in public-access and employee-activated applications. Founded in 1971, the company is headquartered in Menlo Park, California, with manufacturing sites in the U.S., Belgium, Taiwan, and Japan. (Elo operates in Japan under the name Touch Panel Systems.)

For more information on Elo's products and services, please contact Elo TouchSystems at 800-ELO-TOUCH (800-356-8682), visit Elo's Web site at www.elotouch.com or direct electronic mail inquiries to eloinfo@elotouch.com.

Public Relations Contacts

Barbara Van Gennep
Marcom Manager
Elo TouchSystems, Inc.
Tel: 650.361.4670
bvangenn@elotouch.com

More from Electrical Equipment & Systems