Touchscreen offers improved linearity performance.
Press Release Summary: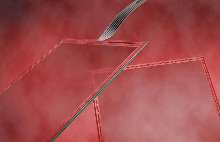 Touchscreen incorporates Z-Border electrode pattern, which provides precise straight edge for positional accuracy that reduces error margins from 1.5% to as low as 1%. AccuTouch five-wire technology has separator dot matrix that ensures physical dots are less visible when display is powered on. Product employs COACh IIs chip, which operates at 3.3 and 5 V and has power-down mode SmartSet protocol and drivers.
---
Original Press Release:
Elo Enhances AccuTouch Edge Accuracy with New Z-Border

Other Enhancements Include Cosmetic Improvements

Fremont, CA--April 17, 2003--Elo TouchSystems, Inc., the global leader in touch technology and a unit of Tyco Electronics, today announces Z-Border, one of a series of enhancements to its popular AccuTouch five-wire resistive touch technology. Z-Border, a new patent-pending electrode pattern, significantly improves linearity performance by providing a more precise straight edge for greater touch accuracy in the corners of the screen. This new patent-pending design again illustrates Elo's leadership in touch technology, with over 55 patents, more than any touchscreen company. Elo TouchSystems pioneered the touchscreen more than 20 years ago, and has been manufacturing them even longer than there was a Microsoft Mouse.

"Users of Microsoft Windows will find Z-Border particularly beneficial," says David Chen, Elo's worldwide AccuTouch product manager. "The new enhanced edge accuracy makes it easier to select the tiny close window box in the upper-right corner of the screen." According to Chen, the improved positional accuracy available with the new Z-Border electrode pattern has made it possible to reduce error margins from 1.5 percent to as low as 1 percent.

Tougher, Clear Separator Dots

With new ink and other process changes, Elo's AccuTouch five-wire technology will now have an even more durable separator dot matrix. The new clear dots technology will ensure that the physical dots are less visible when the display is powered on. "The new dot technology is part of our ongoing drive to provide users with the clearest, most durable resistive touch technology possible," says Chen.

COACh IIs Controller Chip

Elo's COACh IIs chip operates at both 3.3 V and 5 V and is packaged with a small footprint of 12.15 mm by 12.15 mm. It also incorporates a power-down mode in which power consumption can be reduced by as much as 95 percent. The compact size, lower operating voltage, and reduced power consumption of the COACh IIs make it the ideal partner for Elo's AccuTouch five-wire resistive touchscreens, and battery-powered applications. The COACh IIs is also fully compatible with Elo's SmartSet protocol and all of Elo's standard software drivers.

2215 Mini Serial Controller

The new 2215 serial controller board is about half the size 60.325 mm x 31.75 mm) of the existing 2210 controller, but is 100% software compatible as it uses the new COACh II chip with power-down mode and Elo's standard SmartSet protocol and drivers.

For more information on Elo's products and services, please contact Elo TouchSystems at 800-ELO-TOUCH (800-356-8682), visit Elo's Web site at www.elotouch.com, or direct electronic mail inquiries to [email protected].

Contacts:

Barbara Van Gennep

Marcom Manager

Elo TouchSystems, Inc.

Tel: 510-739-4670

[email protected]

Peter Ferris

Tyco International (US) Inc.

Tel: 603-334-3933

[email protected]

AccuTouch, COACH, and SmartSet are trademarks of Elo TouchSystems, Inc. Windows is a trademark of Microsoft Corporation. All other products and company names referred to herein may be trademarks or registered trademarks of their respective companies or mark holders.

About Elo TouchSystems

Elo TouchSystems, Inc., global leader in touch technology, is a business unit of Tyco Electronics. Elo develops, manufactures and markets a complete line of touch products that simplify the interface between people and computers in both public-access and employee-activated applications. Founded in 1971, the company is headquartered in Fremont, California, with manufacturing sites in the U.S., Belgium, Taiwan, and Japan. Elo's main regional offices are in Kessel-Lo, Belgium and Yokohama, Japan, with additional sales and technical support offices worldwide. For more information on Elo TouchSystems' products and services, call 1-800-ELO-TOUCH in the U.S. or +32-16-35-2100 in Europe or visit our Web site at www.elotouch.com.

About Tyco Electronics

Tyco Electronics is the world's largest passive electronic components manufacturer; a world leader in cutting-edge wireless, active fiber optic and complete power systems technologies; and is also rapidly developing extensive networking and building technology installation services. Tyco Electronics provides advanced technology products from over forty well-known and respected brands, including Agastat, Alcoswitch, AMP, AMP NETCONNECT, Buchanan, CII, CoEv, Critchley, Elcon, Elo TouchSystems, M/A-COM, Madison Cable, OEG, OneSource Building Technologies, Potter & Brumfield, Raychem, Schrack, Simel and TDI Batteries.