Touchscreen HMI Panels Web-enable up to 5 serial protocols.
Press Release Summary: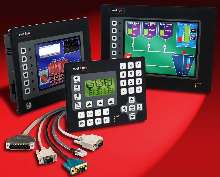 Equipped with up to 5 communication ports, Crimson 2 software, and built-in gateway, G3 HMI Series operator panels Web-enable multiple devices, including PLCs, PCs, drives, and PID controllers. They deliver remote access, monitoring, and virtual operation via company LAN or Internet, facilitating real-time operational access and data logging from remote PC. Features include USB, RS422/485, and RS232 ports, all operable at up to 115,200 baud.
---
Original Press Release:

New Low Cost HMIs Offer Exclusive Ability to Web-Enable up To Five Serial Protocols!


New HMI Panels Web-Enable up to Five Serial Protocols Simultaneously for Remote Operation and Data Logging.

York, PA-February 24, 2004-Red Lion Controls, Inc. announces the G3 HMI Series, a family of operator panels that offer up to five communication ports, as well as next generation software and a built-in gateway to web-enable virtually any device. This unprecedented capability delivers remote access, monitoring and virtual operation- either via company LAN or the Internet-facilitating real-time operational access and data logging from a remote PC.

"The G3 HMIs feature the most on-board communication ports of any HMI available, and let you web- and network-enable many different types of hardware using their integrated Ethernet port," said Mike Granby, Red Lion President. "For the first time, remote users across the LAN or around the world can communicate with and control multiple devices including PLCs, PCs, drives and PID controllers." Granby added, "Now OEMs can make complete integration of their machines a reality, with a low cost HMI panel that offers remote access, multi-device data acquisition and logging, as well as event triggeringÑeven automatic posting of logged data to a web page."

All G3 HMIs feature an integrated gateway that converts any attached device's serial protocol to on-board 10 Base T/100 Base-TX Ethernet. A built-in USB port provides data exchange with a connected PC, and CompactFlash support allows virtually unlimited data storage, free from battery concerns. One RS422/485 port and two RS232 ports are provided as standard, and each port is operable at up to 115,200 baud. One each RS232 and RS422/485 ports are available with an optional card, enabling up to five comms ports per G3 HMI.

The 8-inch G308 and 10-inch G310 HMIs are resistive analog touchscreen terminals featuring 256-color VGA displays, integrated programmable membrane keypads, and 8MB of on-board Flash memory. The G308 measures 8.18" x 10.32" x 2.2" (207.8 x 262 x 56 cm) and features seven programmable keys, while the larger G310 measures 9.50" x 12.83" x 2.2" (241.3 x 325.8 x 56 cm), features eight programmable keys, and has a sunlight visible outdoor version available.

Each G3 HMI model also includes Red Lion's powerful and intuitive Crimson 2 software at no extra charge. Crimson includes an extensive library of device drivers to quickly establish communications between the G3 and virtually any device, integrated web server, drag-and-drop data mapping and a "virtual panel" function that mirrors the HMI display to a remote PC. If a specific device driver does not exist, Red Lion will write the driver and provide it free-of-charge. Red Lion G3 HMIs start as low as $599.

Red Lion Controls, Inc. is a leading manufacturer of industrial control solutions worldwide. Products include digital/analog control, monitoring and panel meters, PID control, human-machine interface panels, and signal conditioning. For more information, or to find the Red Lion distributor nearest you, go to www.redlion.net, or contact: Red Lion Controls, Inc., 20 Willow Springs Circle, York, PA 17402; (717) 767-6511.

More from Architectural & Civil Engineering Products