Additive Manufacturing Systems
Touchscreen 3D Printer features dual nozzle design.
Press Release Summary: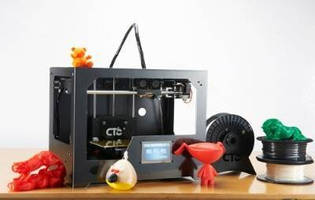 In addition to steel structural components and transparent acrylic integrated into exterior design, CTC FDM BIZER III 3D Printer comes equipped with touchscreen LED panel and updated upper slicing software. Intelligent misalignment detection CSN technology aligns 2-color print heads, avoiding scratches caused by time lag when using single print head and eliminating potential for mutual interference between heads. Max print size is 11 x 5.7 x 5.9 in. and minimum thickness is 0.0039–0.0197 in.
---
Original Press Release:

CTC Electronic Announces Worldwide Launch of Dual-Nozzle Touchscreen 3D Printer



ZHUHAI, China, -- Zhuhai CTC Electronic Co., Ltd. announced the launch of the CTC FDM BIZER III 3D Printer at a press conference held right after the Chinese New Year holiday break at company headquarters in Zhuhai, ushering in a new starting point for China's 3D printing industry.



The CTC 3D Printer received a huge amount of attention from the industry last year. The newly-released CTC BIZER III is not only an upgrade of its predecessor CTC BIZER II, the printer has also achieved breakthroughs in performance and functionality to meet the diversified needs of users from across a wide range of industries.



The CTC BIZER III is sure to attract the industry's attention, with a high quality appearance enhanced by the transparent acrylic integrated into the exterior design. The printer's structural components are wholly made of steel, greatly enhancing stability during the printing process. Compared to the previous CTC BIZER II, another highlight of the product is the improved operation experience: the commonly used button-control panel has been replaced with a touchscreen LED panel (available with an English or Chinese interface). Another breakthrough is the updated upper slicing software, significantly improving the printer's slice processing capability.



"CTC Electronic has massively improved the software and hardware of the open source technology used by Makerbot. The control software has been significantly transformed in CTC BIZER III. The highly user-friendly interactive interface has greatly lowered the bar for 3D printing operation." said He Siyi, Head of Public Relations at CTC Electronic.



The new printer deploys CTC Electronic's intelligent misalignment detection CSN technology, a proprietary technology developed independently by CTC, to align the two-color print heads, avoiding the scratches caused by the time lag when using a single print head and eliminating the potential for mutual interference between the heads that can occur with a double print head.



The CTC BIZER III comes in Chinese and English versions. The company provides a one year warranty for the entire machine. The product, priced at US$1300, is now available for delivery anywhere worldwide. Customers can place their orders now on Tmail.com, Suning or the company's official website WWW.CTCPRINTER.COM.



General specifications of the CTC BIZER III:

--  Molding: FDM DUAL NOZZLES

--  Maximum print size: 11" x 5.7" x 5.9"

--  Printer size: 12.6" x 18.3" x 15"

--  Minimum thickness: 0.0039-0.0197 inches

--  Print materials: 1.75mm ABS, PLA, PC, rubber and wood

--  Connection: SD card, USB



About CTC Electronic

Founded in 2004, Zhuhai CTC Electronic Co., Ltd, is a manufacturer that has successfully made the transition from 2D to 3D and became one of the firms that has maintained high growth in the 3D core technologies sector. The BIZER Series make up the company's core product line featuring the most competitive advantages.  As a professional manufacturer with 10 years experience in printing, CTC's core 3D R&D Center, headquartered in India, is manned by an international R&D team with more than 60 technicians and has established multiple marketing channels across the globe, with logistics warehouses located in the USA, Europe and Australia.



For more information please visit www.ctcprint.com/en/ and www.ctcprinter.com/



CONTACT: Yoyo He, +86-13926933050, +86-756-6255630, 2534675067@qq.com

More from Machinery & Machining Tools