Computer and Communication Terminals
Touch Terminal offers customizable options, remote control.
Press Release Summary: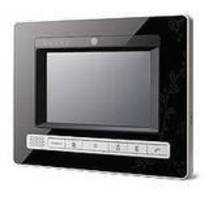 Featuring 7 in. TFT screen and 1.3 M pixel CMOS camera, UBiQ-480 is suitable for wall mounting or desktop/tabletop use. Built-in microphone and speaker allow use without handset, and noise canceling technology promotes audio quality. Capable of controlling building life support systems as well as various other devices, terminal offers optional wireless connectivity as well as standard I/O features such as dual-LAN, RS-232, RS-485, USB, and DIO ports.
---
Original Press Release:

UBiQ-480 - A Touch of Elegance at Home, at the Office or Away



Taipei, Taiwan, November 10, 2009 - Advantech, the leading global ePlatform services provider, is excited to announce UBiQ-480, a touch terminal with a 7" TFT screen and 1.3 M pixel CMOS camera that can be wall mounted inside buildings or is suitable for desk or conference table top use. UBiQ-480 provides an interactive control center which can be remotely controlled, and is capable of delivering audio and video as well. It has a built-in microphone and speaker for easy use without a handset and is designed with noise canceling technology. The FreeScale i.MX31 t 523 MHz processor is powered by Win CE with a slick graphical interface designed for use in home, hotels, and as a video conference terminal in businesses. Six programmable functionkeys and changeable faceplates allow personalization to fit various decors. UBiQ-480 is capable of controlling building life support systems such as climate and lighting, as well as a variety of other devices through its wide array of connectivity options. It is LAN attachable with optional wireless connectivity, has a convenient maintenance port behind the front panel, and supports Advantech's UBiQ Package Application Development Suite assiss system integrators in minimizing time-to-market application development.

Chock Full of Communication Options
UBiQ-480 has a host of I/O options. It is equipped with peripheral interfaces such as dual-LAN, RS-232, RS-485, USB and DI/O ports. Dual-LAN connections are provided with security in mind, and the rich I/O connectors allow UBiQ-480 the ability to control virtually anything from audio, video and communication appliances to lighting, climate and security devices. The USB port is under the front panel for easy system maintenance without having to remove the device from an installation site. And adding UBiQ-480 to a pre-exisiting infrastructure is easy too, as the LAN connection can provide Power over Ethernet (POE) eliminating the need for additional electrical wiring.

Personalization Options, High Resolution Videoand Ease of Control
Faceplates are available in different colors to suit personal taste and interior design, allowing its appearance to fit in with home taste, corporate design or hotel decor. Video is delivered in real-time, with vivid detail thanks to the 1.3 M pixel CMOS camera. This makes UBiQ-480 suitable for security monitoring in the home, or as a personal video conference device atseats around a corporate conference room. UBiQ-480 is also equipped with an IR port which accepts commands from remote controls for convenient operation, and it is widely compatible with most pre-existing intercom facilities.

Developer Kit Eases Time-to-Market
UBiQ-480 is designed with the system integrator in mind. Quick market deployment is essential to stay competitive andtake advantage of the market demand for intelligent building systems. Compatibility with the UBiQ Package Application Development Suite enables developers to quickly build applications, based on popular functions that are included in the toolkit. Six programmable function keys allow UBiQ-480 to be tailored-built to each customer's specifications.

Advantech's UBiQ-480 is available now. For more information please contact your local sales office or visit www.advantech.com.

About Advantech -Founded in 1983, Advantech delivers visionary and trustworthy industrial computingsolutions that empower businesses. Advantech is a Premier Member of the Intel® Embedded and Communications Alliance, a community of embedded and communications developers and solution providers. We cooperate closely with solution partners to provide complete solutions for a wide array of applications in diverse industries, offering products and solutions in three business categories: Embedded ePlatform, eServices & Applied Computing, and Industrial Automation groups. With more than 3,400 dedicated employees, Advantech operates an extensive support, sales and marketing network in 18 countries and 39 major cities to deliver fast time-to-market services to our worldwide customers. (Corporate Website: www.advantech.com).

More from Non-Industrial Products