Touch Sensor Controllers feature 32-bit ARM® microprocessor.
Press Release Summary: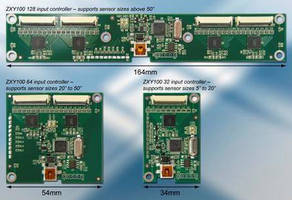 Compatible with PCT(TM) Projected Capacitive Technology-based touch sensors, ZXY100 Controllers are based on 32-bit ARM® microprocessor, which accelerates touch detection and optimizes responsiveness in both direct touch and through-glass sensing. Units incorporate ASIC, which consolidates analog components into single 7 x 7 mm chip. Models include 32-channel version for 5-20 in. sensors, 64-channel version for 20-50 in. sensors, and 128-channel unit for 50+ in. sensors.
---
Original Press Release:

Faster, Smarter Controller for Projected Capacitive Technology (PCT(TM)) based Touch Sensing Opens Doors to Next-Generation User Experiences



Zytronic has announced a next-generation controller architecture for its PCT(TM) based touch sensor products. The new architecture increases speed and accuracy, streamlines system integration, saves 55% of PCB space, and provides a platform for innovative touch features that add extra value to Human-Machine Interface (HMI) applications.

The new ZXY100 Controllers are fully compatible with all of Zytronic's PCT touch sensors, including all sizes of ZYPOS®, ZYBRID®, ZYTOUCH® and the flexible ZYFILM® and ZYPROFILM® sensors. PCT touch sensing comprises an array of micro-fine capacitive sensing elements which are embedded within a toughened laminated glass substrate that protects the sensing element. PCT can also operate behind thick protective glass overlays, enabling highly reliable, functional and versatile HMIs, with proven solutions already in action worldwide including information kiosks, ticketing terminals, interactive digital signage, medical displays, industrial PCs and ATMs.

Driving the ZXY100 controller's increased performance is a new 32-bit ARM® microprocessor, enabling faster touch detection and enhanced responsiveness in both direct touch and through-glass sensing.

In conjunction with the extra processing power of the ARM, Zytronic will be releasing new firmware which will generate one or two simultaneous touch points, enabling customers to develop dual-touch or gesture recognition applications. The new firmware has been developed to be inherently compatible with Windows® 7, allowing customers using this operating system to choose between downloading Zytronic's fully configurable driver (UPDD) or using the basic in-built Microsoft® touchscreen driver (HID). Furthermore, for those customers wishing to write their own application specific touch drivers, Zytronic can release the controller Output Protocol. Other benefits of the new controller will include in-field firmware upgrade capability via on board Flash memory.

In addition to the ARM microprocessor, the new controller will incorporate an ASIC (application specific integrated circuit) which has been custom designed to consolidate a number of key analogue components into a single, small 7 x 7mm chip, enabling a substantial reduction in controller dimensions and if required, facilitating the supply of the controller in chip-set form to allow integration of the PCT touch sensor controller onto a customer motherboard in higher volume and small form/factor applications.

There are three new ZXY100 controllers in the range. The smallest, a 32-channel unit (to be used with 5-20 inch sensors) measures just 54mm x 34mm; a larger 64-channel controller (for 20-50 inch sensors) is also being released, and for the first time, Zytronic are releasing an all new 128-channel device (for ultra large +50 inch sensors) which is expected to be available by Summer 2010. Each will be available with either USB or Serial connectivity.

"The new ZXY100 controllers will deliver outstanding performance, reliability, ease of integration and accuracy on all PCT touchscreens irrespective of size" says Ian Crosby, Zytronic's Sales and Marketing Director. "In addition, the provision of dual-touch supporting firmware for the first time will allow PCT customers increased scope to develop new and powerful applications, reinforcing Zytronic's position as a leader in projected capacitive touchscreen innovation."

About Zytronic

Zytronic designs and manufactures a range of technologies that optimise the performance of electronic display applications. The company's principle products include award-winning touch sensor technologies, optical filters for enhanced performance and protection, and special filters to minimise electromagnetic emissions. In addition, the company can offer complex shaped glass composites for specialised applications.

Zytronic products are used in electronic displays for information kiosks, web phones, ATMs and gaming machines, as well as by military, computer, telecommunications, medical and lighting OEMs, and are available from its network of worldwide distributors.

The company has its headquarters and state-of-the-art manufacturing facilities in Blaydon, Tyne & Wear in the UK. In addition to ISO-approved manufacturing, these facilities are home to Zytronic's team of lamination, material science and electronics specialists who are responsible for ongoing product development in composite technology.

For more company information, please visit Zytronic's web site at: www.zytronic.co.uk

Contact details for sales enquiries
For information on North American-based distributors and representatives please go to: www.zytronic.co.uk/about-zytronic/reps-and-distributors?article=59

More from Electronic Components & Devices