Touch Screens use invisible infrared light as touch sensor.
Press Release Summary: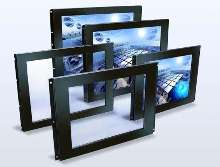 IRTouch touch screens are highly transparent units that provide maintenance-free and calibration-free operation. Since there are no films or conductive layers, standard transparency is over 92% with 100% possible. Sealed to IP65 standard, screens operate over temperature range of -41 to +70°C. Standard LCD sizes range from 12.1-29 in. with response time of 10-35 ms. Units provide vandal-resistant operation in ATMs, POS displays, and outdoor kiosks.
---
Original Press Release:

New Touch Screens Use Invisible Infrared Light as the Touch Sensor For Superior Reliability


Austin, TX, September 2004 - New IRTouch touch screens from Touch International are highly transparent, high-resolution, high-reliability touch screens using infrared touch technology that provide a stable, maintenance-free and calibration-free solution for point-of-sale (POS) and industrial process control display applications.

Since there are no films or conductive layers, standard transparency is over 92% (with 100% possible). IRTouch touch screens employ innovative optical and mechanical designs that provide excellent performance in any type of ambient light conditions, indoors and out.

"There have been significant advances made in the Infrared technology since it was first introduced to the market in the late 1970s," commented Gary Barrett, Touch International's Chief Technology Officer. "Infrared has always been a very good touch technology, however, there were issues in the earlier versions with dead space or false touches when dust accumulated or objects landed on the Infrared transmissive bezel. This would stop the technology from working properly. Today's firmware, advances in materials and science, and automated gain controls have obviated the problems to such an extent that IBM has adopted Infrared as its technology of choice in many of its Point-of-Sale products."

Sealed to the IP65 standard, IRTouch touch screens operate over a wide temperature range of -41º C to +70º C. They are extremely resilient and can operate flawlessly in conditions from severe weather to factory environments where water, acid, oil, dust, dirt, moisture and EMI can be a problem. They are impervious to temperature extremes and other environmental factors that can cause loss of calibration and drift, saving on costly service calls.

Engineered for ruggedness, they have no fragile components or films that can be scratched, and provide vandal-resistant operation in applications such as ATMs, POS displays and outdoor kiosks. Even misuse of hot liquid or cigarettes won't hurt them.

IRTouch employs a unique redundant circuit design that provides an on-the-fly, seamless transition to backup circuits, if required, for maximum reliability. This results in a display that can be installed with confidence in mission-critical situations.

These units can be operated by any object - finger, gloved hand, or stylus - and require no pressure on the touch screen surface itself. Response time range is 10-35 ms.

IRTouch touch screens are available in a full range of standard LCD sizes from 12.1" to 29" diagonal and come with a five-year warranty. IRTouch is also available in smaller sizes (6.4", 8.4" and 10.4"), larger sizes (30" to 100") and custom sizes. IRTouch is ideal for applications where there is a potential for high volumes of traffic and/or high abuse environments such as ATM machines, self-ticketing kiosks, and Point-of-Sale systems.

OEM pricing for Touch International's standard IRTouch touch screens is $128.00 for the 12.1" and $149.00 for the 15.1".

For more information on IRTouch touch screens, contact Touch International, 2222 W. Rundberg Lane, Austin, Texas 78758 USA. Phone: 877-832-8292; Fax: 512-832-8291; www.touchintl.com.

Touch International supplies high-quality touch screens to OEMs, system integrators and VARs worldwide. Products include capacitive, 4 and 5 wire resistive and Digital Ink(TM), the world's thinnest and only form-fitting, unbreakable touch screen. Industries served include industrial automation, retail point-of-sale, hospitality, banking, medical equipment, gaming and entertainment, military, transportation, public-access kiosks, and education. With strategically located factories worldwide, Touch International can integrate products more quickly and ship them more affordably, greatly reducing end user costs and time to market.

More from Construction Equipment and Supplies