Touch-Screen Workstation suits demanding environments.
Press Release Summary: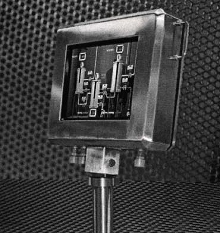 Completely sealed, SafeTTouch 4X(TM) stainless steel workstation utilizes EnhancedInfrared(TM) touch screen technology. It operates in IP66 high-pressure, hose-down environments, repelling bacteria and withstanding caustic cleaning procedures. Faceplate is scratch-resistant and shatterproof. LCD display sizes are 15.1 and 18.1 in. Digital RayFire(TM) fiber-optic video- and data-transmission system allows PC to be located up to 10 miles away.
---
Original Press Release:

Dolch Introduces SafeTTouch 4X(TM)


The ultimate computer interface solution for process control

San Diego, California, May 7, 2002 - Dolch, the world leader in delivering rugged computer solutions, is proud to introduce SafeTTouch 4X, a completely sealed, stainless steel touch screen workstation designed to repel bacteria and withstand harsh caustic cleaning procedures.

"For years, Dolch has been a pioneer and leader in rugged solutions for industrial automation," said Jim Ciardella, President of Doich. "Today, we are bringing new alternatives to high-speed processing lines in food and pharmaceutical companies throughout the world. We've designed an operator interface solution tough enough to withstand extreme temperatures, humidity, and high-pressure caustic hose-down cleanings."

The SafeTTouch 4X features a completely sealed, multi-gasketed, NEMA 4X enclosure with Dolch proprietary EnhancedInfrared(TM) touch screen technology developed specifically for use in harsh or demanding environments. The touch screen faceplate is scratch-resistant and shatterproof, and surface cuts or gouges do not effect performance. SafeTTouch 4X was designed for continuous reliable performance in extreme IP 66 high-pressure hose-down environments. The front of the faceplate provides a smooth edge transition, eliminating the crevice in standard touch screens, an area that can allow bacteria to grow. The SafeTTouch 4X is available in both 15.1" and 18.1" LCD displays. Mounting options
includes pedestal and panel mount configurations.

A SafeTTouch 4X operator can interface with a host computer located in a safe and secure environment with the exclusive Dolch RayFire(TM) digital fiber-optic video and data transmission system. RayFire allows the system's PC to be located up to 10 miles away, in a controlled environment. In addition, RayFire includes "Hot Swap" capabilities, which allows users to disconnect, relocate and reconnect without ever rebooting or experiencing any network interruptions.

About Dolch
Headquartered in Fremont, California, Dolch is the world leader in rugged, multi-slot portable industrial PC platforms. Dolch also manufactures rugged touch screen solutions, industrial enclosures and public access kiosk systems. The Dolch Difference - an industry-leading, customer-oriented infrastructure that ensures a consistent product configuration, superior service and lifetime technical support, backs every
product. In addition to the Fremont campus, Dolch has offices in San Diego, Baltimore, Germany, Canada, France and the United Kingdom. For more information on Dolch and its products and services, please visit us at DolchPR.com or call us at 1.877.347.4929.