Touch Screen is available in .36-50.8 mm thicknesses.
Press Release Summary: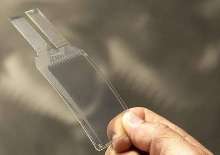 Capable of stylus, finger, and gloved-hand input with palm rejection, unbreakable Digital Ink form fitting, wear-resistant touch screen is available in sizes up to 5.7 in. diagonal. Available with glass or plastic sensor material, product offers pen tracking speed of up to 40 ips and anti-bacterial and anti-static properties. Touch Screen is suited for retail signature capture, web phones, PDAs, GPS, and handheld applications.
---
Original Press Release:

Touch International Unveils Breakthrough Touch Technology


Digital Ink: The world's thinnest and only form fitting, unbreakable touch screen

AUSTIN, Texas - July 23, 2003 -Touch International Inc., today announced Digital Ink, the worlds' thinnest and only form fitting, unbreakable, wear-resistant touch screen capable of stylus, finger, and gloved-hand input with palm rejection. Digital Ink is ideal for retail signature capture, web phones, personal digital assistants (PDAs), gaming devices, global positioning systems (GPS), and other handheld applications where thinness, power-efficiency, and low-weight are crucial to design advances.

Digital Ink brings the functionality of a touch screen to any material, including a window store front, table top, or bullet proof glass. With its palm rejection capabilities, Digital Ink eliminates accidental input from the pressure of the user's knuckles or palm, ensuring accurate input registration. Digital Ink supports USB and PS/2 communication protocols. Supported operating systems include Microsoft Windows 98/2000/CE/ME/XP, Linux and Macintosh.

Digital Ink offers many advantages:

o Anti-bacterial- independently tested to resist E-coli and staphylococcus aureus

o Choice of sensor material- glass or plastic

o Superb pen tracking speed-1016mm (40 inches) per second

o Wide range of sensor thickness-.36mm~50.8mm

o Anti-static

Digital Ink is currently available in sizes up to 5.7 inch diagonal. Larger sizes will become available in Q4 2003, making Digital Ink available for use in most any touch application. Expanded applications will include: industrial automation, point-of-sale, kiosks, gaming and lottery, business automation, tablet PCs, web pads, process control.

"Digital Ink is the biggest advance in touch technology in more than ten years," proclaims Gary Barrett, accomplished inventor and co-founder of Touch International. "There is nothing in the market that comes close and once scaled up to larger-size touch screens, I believe it will revolutionize the industry."

Barrett is industry renown as a pioneer in touch technology. Significant achievements include the invention and patent for the first five-wire resistive touch screen sensor in 1984, changing the face of the touch screen industry by dramatically increasing the product life and durability of resistive touch screens, and the patent for the first ever pen-entry technology (1985), enabling the invention of PDA's and tablet PCs.

Today, analog resistive and capacitive are the most widely used touch technologies, with resistive accounting for approximately sixty percent and capacitive holding less than twenty-five percent dollar market share. However, the two technologies have vast differences in capabilities, hence, until now touch users have had to choose certain features and sacrifice others.

For example, if pen or gloved finger input is an absolute necessity, the user would have to choose resistive, sacrificing the added durability and optical purity that capacitive offers, because capacitive can only be used with finger input. Whereas, Digital Ink offers all the benefits both capacitive and resistive technologies feature, with none of the associated drawbacks.

About Touch International

Touch International, Inc. is a privately-held worldwide supplier of high-quality touch screen components. The company has a custom manufacturing solutions center in Texas, and has formed partnerships with best-in-class touch screen component manufacturers with state-of-the-art, high-volume production plants in Taiwan and Southeast Asia. Touch International has headquarters in Austin, Texas and Trier, Germany, with sales and support persons on four continents.

For interviews, photos, or other information, contact Michelle Sims, Touch International, at 512.388.0090x26.

Visit the company web site: www.touchinternational.com

More from Packaging Products & Equipment