Touch Panel Displays target medical applications.
Press Release Summary: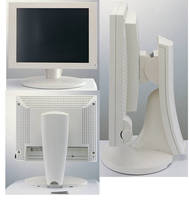 Available in 15, 17, and 19 in. models, PMD medical-grade displays have 5-wire resistive touchscreen that is resistant to contaminants and chemical spills or surface acoustic wave touchscreen with scratch-resistant glass surface. Displays offer contrast ratio of 400:1 to 1,300:1 and 16-20 ms response time. Various signals input from BNC, standard VGA, S-Video, and composite-to-DVI analog are accepted. Units also include 3-way adjustable stand and support VESA DDC2B mounting.
---
Original Press Release:

Portwell Introduces 15", 17", and 19" Medical Grade Touch Panel Displays



Fremont, CALIF - September 22, 2009 - American Portwell Technology, Inc., (http://www.portwell.com/) announces the PMD line of medical grade touch panel displays, from 15" to 19" with a selection of 5-wire resistive or Elo's surface acoustic wave (SAW) touch screen technologies. Portwell's PMD LCD touch monitor series meet the stringent medical safety standards and are the ideal human-machine interfaces for digital radiography, X-ray, ultrasound imaging system, point-of-care/medical computer cart, PACS workstation and pharmacy POS systems.

Highlights:

oReliable and excellent image quality

oHigh degree of mechanical and electrical stability oHigh contrast ratio of 1300:1: The PMD-S19 product line

Ease of Use

"When it comes to simplifying a potentially complex user interface, there is nothing easier than touch," says Derek Leung, American Portwell Technology's product specialist. "Users just point to what they want. It's fast, it's safe, it reduces error and it speeds up training and application familiarity. In many cases, touch even cuts through the language barriers. So, the addition of the PMD LCD touch monitor series to its expanding family of medical embedded computing solutions was the natural choice for a forward-thinking company like Portwell," Leung adds.

Versatile Inputs

The PMD series can be custom made to accept a variety of signals input from BNC, standard VGA, S-Video and Composite to DVI analog. In addition to the PMD standard series, Portwell also offers custom touch monitors with higher brightness as well as fast response rates.

High Clarity Touch Panel

Product models with Elo's patented SAW touch screen technology feature a durable, scratch-resistant glass surface with superior image clarity, resolution and light transmission.

Cost-Effective Touch Panel

Product models with 5-wire resistive touch screen technology feature a durable surface that resists contaminants and chemical spills.

Mounting, Ergonomics and Regulation Compliance Each Portwell PMD medical grade touch monitor includes:

oThree-way adjustable stand: Tilt, height and pivot

oVESA DDC2B mounting

oCompliance with UL 60601-1/EN 60601-1

oLow-current-leakage power supply

oSupport for DICOM function

World-Class Service and Support

"American Portwell Technology is an ISO 13485 certified company and a world-leading embedded computer innovator," says Frank Shen, American Portwell Technology's product marketing director. "We are fully committed to providing quality products to the medical market. Our support team constantly tests the compatibility of each member our PMD touch panel series in order to ensure they run effectively on the different medical applications," Shen confirms.

Overview of Portwell's PMD Series of Medical Grade Touch Panel Displays 15" (1024 x 768), 16ms response time, 400:1 Contrast, 250 nits with DVI & VGA input, available in white or black

http://www.portwell.com/products/detail.asp?CUSTCHAR1=PMD-S15

oPMD-S15

oPMD-S15M5 (with 5-wire touch screen)

oPMD-S15ME (with Elo SAW touch screen)

17" (1280 x 1024), 16ms response time, 450:1 Contrast, 260 nits with DVI & VGA input, available in white or black

http://www.portwell.com/products/detail.asp?CUSTCHAR1=PMD-S17

oPMD-S17

oPMD-S17M5 (with 5-wire touch screen)

oPMD-S17ME (with Elo SAW touch screen)

19" (1280 x 1024), 20ms response time, 1300:1 Contrast, 300 nits with DVI & VGA input, available in white or black

http://www.portwell.com/products/detail.asp?CUSTCHAR1=PMD-S19

oPMD-S19

oPMD-S19M5 (with 5-wire touch screen)

oPMD-S19ME (with Elo SAW touch screen)

Product Details: www.portwell.com/products/medical_panel.asp

Portwell Medical Solutions: www.portwell.com/medical/

About American Portwell Technology

American Portwell Technology, Inc., is a world-leading innovator in the embedded computing market and a member of the Intel® Embedded and Communications Alliance. American Portwell Technology designs, manufactures and markets a complete range of PICMG computer boards, embedded computer boards and systems, rackmount systems and human machine interfaces for both OEMs and ODMs. American Portwell is both an ISO 9001:2000 and ISO 13485:2003 certified company. The company is located in Fremont, California. For more information about American Portwell's extensive turnkey and private-label branding solutions, call 1-877-APT-8899, email info@portwell.com or visit us at www.portwell.com.

All products and company names referred to herein may be trademarks or registered trademarks of their respective companies or mark holders.

Product Contact:

Derek Leung

Product Specialist

American Portwell Technology, Inc.

510-403-3326

Derek@portwell.com

Media Contact:

Susan Wei

Marketing Executive

American Portwell Technology, Inc.

510-403-3354

Susanw@portwell.com

More from Laboratory and Research Supplies and Equipment