Touch Panel Controller provides quick-start programming.
Press Release Summary: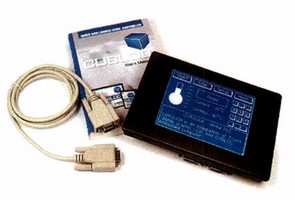 Based on Comfile's CUBLOC(TM) CB290 PLC-on-a-chip, CUTOUCH CT1720(TM) combines touch panel, graphic LCD, and programmable embedded computer. It provides 91 I/O ports, 8 channels of 10-bit A/D, 6 x 16-bit PWM outputs, and 80 KB Flash memory for development of HMI devices. Ladder Logic offers real-time sequential processing, while Basic supplies number-crunching power. Controller includes MODBUS support, 2 RS232 serial ports, and internal battery for safe data backup.
---
Original Press Release:

CUTOUCH CT1720(TM) Quick-Start Touch-Panel Controller



- working buttons in 5 minutes!

Pittsford, NY: CUTOUCH CT1720(TM) is an integration of Touch panel, graphic LCD,
and programmable embedded computer. Based on Comfile's CUBLOC(TM) CB290 PLC-on-a-chip, CUTOUCH CT1720(TM) provides fast processing speed, 91 I/O ports, 8 channels of 10-bit A/D, 6 x 16-bit PWM outputs, and 80KB Flash Program memory so you can quickly develop HMI devices for industrial machines, factory temperature controllers, packing machines, robots, embedded control, and more!

Implementing a touch screen and controller can often add up to a lot of time and expense, but CUTOUCH CT1720(TM) allows you to program working touch-buttons within the first 5 minutes! If you are thinking about developing a device that uses a touch screen, CUTOUCH CT1720(TM) offers a very quick way to get to a finished solution.

CUTOUCH CT1720(TM) is programmable in both Basic and Ladder Logic, allowing fast control, complex math, updateable touch-screen graphics, and fast data-communication protocols to be easily implemented. Ladder Logic, offers real-time sequential processing and Basic supplies the number-crunching power. Both the real-time processing powers of a MODBUS PLC and the 32-bit floating-point math, graphic capabilities, and communication powers of Basic are now available in one product!

CUTOUCH CT1720(TM) has 82 I/O ports, and can be expanded with add-on boards to suit almost any situation (wireless, relay outputs, etc.) Using an optional XPORT internet module, TCP or UDP packets can be monitored through the internet from anywhere, allowing users to update or provide customer service for products located anywhere in the world.

With CUTOUCH CT1720(TM), Basic can be used to draw graphics and print characters to the LCD and receive touch-screen input. Sensor signals enter through I/O or A/D lines, allowing you to turn relays on/off, output analog values, or send RS232 communication very easily compared with traditional non-Basic controllers.

CUTOUCH CT1720(TM) has 80KB Flash Memory for Basic and LADDER programs, 28KB for data memory, RTC, and one of the two RS232 serial ports can be used for download and debug. With 8 channels of 10-bit A/D and 6 channels of 16 bit PWM, CUTOUCH CT1720(TM) is ready-made for lots of industrial applications. An internal battery provides safe data backup. MODBUS support (Slave, ASCII) is also provided, making CUTOUCH CT1720(TM) ideal for customized industrial use.

CUTOUCH CT1720m Starter Kit is available now from $362.00 from stock at Saelig Inc. Pittsford, NY 14534 1-888-7SAELIG info@sealig.com www.saelig.com

More: Alan Lowne, 585-385-1750 fax 585-385-1768 Saelig Company, Inc 1160-D2 Pittsford-Victor Rd. Pittsford, NY 14534 USA. info@saelig.com

More from Fluid & Gas Flow Equipment