Total NSX Analyzer has compact, modular design.
Press Release Summary: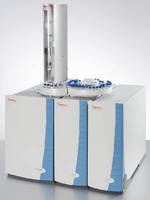 With working range that covers total Nitrogen/Sulfur/Chlorine (NSX) from low-ppb to high-ppm concentrations, TITAN 4000 uses combustion method that caters to range of applications in refinery and chemical samples. Operation is in real-time, with TN/TS samples analyzed within 2 min and TX samples under 4 min, and requires minimal handling. Also included, chromium-plated copper spray injection design can inject high-boiling point component samples without blocking injection system.
---
Original Press Release:

Thermo Fisher Scientific Launches the Most Compact Modular Total Nitrogen/Sulfur/Chlorine Analyzer



DELFT, Netherlands (January 12, 2009) - Thermo Fisher Scientific Inc., the world leader in serving science, announces the launch of the new TITAN 4000 Total Nitrogen/Sulfur/Chlorine (NSX) analyzer. This streamlined NSX analyzer, up to 60% smaller than competing analyzers, offers users in the refinery and petrochemical markets superior sample introduction and enhanced oxidative combustion performance. Its innovative detectors enable increased analysis speed and productivity, as well as maximum accuracy and reliability of results. Its extensive working range covers total nitrogen/sulfur/chlorine applications from low ppb (parts per billion) to high ppm (parts per million) concentrations. In addition, the use of a powerful combustion method allows the analyzer to cater for a wide range of applications in refinery and chemical samples, including naphtha, aromatics, automotive fuels, biodiesel fuels, gaseous and LPG samples.

In order to ensure optimum productivity within today's global market, the fast reporting of total sulfur, nitrogen and chlorine content data, coupled with superior analytical accuracy is essential. Traditional analyzers achieve analysis times of six minutes, requiring extra carrier gas facilities and frequent user interface handling. In contrast, by eliminating the need for frequent system checks, the innovative Thermo Scientific TITAN 4000 NSX analyzer is capable of analyzing TN/TS samples within an unsurpassed two minutes and TX samples in under four minutes.

By operating in real-time and with minimal sample handling requirements, the TITAN 4000 analyzer decreases analytical costs and complies with current market driven ASTM, IP and UOP methods. The powerful new analyzer features a unique, patent-pending chromium plated copper spray injection design, which is able to inject high boiling point component samples without blocking the injection system. The sample introduction and combustion technology, with pre-soot detection (patent pending), ensures optimum analysis and result precision, reducing lead time and minimizing matrix effects.

Contrary to other technologies, the TITAN 4000 injection port and the plug flow quartz combustion tube require only oxygen gas. Maintenance is reduced through removing the need for their frequent replacement. A heated filter and a number of gasflow and temperature control sensors further eliminate the need for user interaction. These features improve the autonomy of the system and reduce instrument downtime and maintenance, minimizing operation costs associated with gas consumption and consumables. In addition, the combination of safe, sensitive and reliable TS-UVF, TN-CLD, microcoulometric techniques and reduced instrument interaction lead to heightened laboratory safety.

Building on more than 25 years of experience in trace level elemental analysis (EA), Thermo Fisher has taken a "modular plug-and-play" approach in developing the new generation TITAN 4000, ensuring maximum ease-of-use and productivity. The NSX's exceptionally enhanced modularity and upgradability allow straightforward and quick module exchange functionality. In addition, the system's own module diagnostics make tools for future analysis easily accessible. User-friendly new generation software, Thermo Scientific VISUAL, simplifies the analytical operation by minimizing user involvement in setting up the analyzer. In addition, the VISUAL functions, including priority samples, auto-multiple point calibration lines, Auto-RSD, self diagnostics and leak testing allow 24/7 unattended operation.

For more information about the new Thermo Scientific TITAN 4000 Total Nitrogen/Sulfur/Chlorine analyzer, please call +1 800-532-4752, email analyze@thermofisher.com or please visit http://www.thermo.com/titan4000

Thermo Scientific is part of Thermo Fisher Scientific, the world leader in serving science.

About Thermo Fisher Scientific
Thermo Fisher Scientific Inc. (NYSE: TMO) is the world leader in serving science, enabling our customers to make the world healthier, cleaner and safer. With annual revenues of $10 billion, we have more than 30,000 employees and serve over 350,000 customers within pharmaceutical and biotech companies, hospitals and clinical diagnostic labs, universities, research institutions and government agencies, as well as environmental and industrial process control settings. Serving customers through two premier brands, Thermo Scientific and Fisher Scientific, we help solve analytical challenges from routine testing to complex research and discovery. Thermo Scientific offers customers a complete range of high-end analytical instruments as well as laboratory equipment, software, services, consumables and reagents to enable integrated laboratory workflow solutions. Fisher Scientific provides a complete portfolio of laboratory equipment, chemicals, supplies and services used in healthcare, scientific research, safety and education. Together, we offer the most convenient purchasing options to customers and continuously advance our technologies to accelerate the pace of scientific discovery, enhance value for customers and fuel growth for shareholders and employees alike. Visit www.thermofisher.com.

More from Packaging Products & Equipment