Toshiba Nanoanalysis Corporation Expands Capabilities with ZEISS Xradia 520 Versa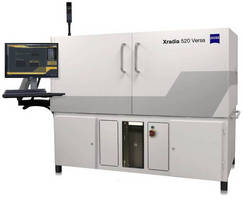 Thornwood, N.Y. – Carl Zeiss X-ray Microscopy, formerly Xradia, Inc., announced today that Kawasaki, Japan-based Toshiba Nanoanalysis Corporation has selected the recently-introduced ZEISS Xradia 520 Versa 3D X-ray microscope (XRM) to expand the capabilities of its busy analysis lab. Toshiba Nanoanalysis offers imaging services for complex analytical demands in semiconductor, biosciences and materials science research for industry and academia.



According to Mr. Koichiro Tomoda, General Manager of the Evaluation and Analysis Technology Center, the major appeal for the Toshiba Nanoanalysis lab services team is the instrument's unprecedented flexibility. "We believe the Xradia 520 Versa will enable us to expand the capabilities of our lab to study even more diverse materials. We are very excited to begin using this 3D X-ray microscope to expand the number of applications we are able to offer our customers."



The Xradia 520 Versa was designed for studying hard-to-image materials and the evolution of their microstructures within industrial and scientific laboratory environments. It extends the boundaries of non-destructive 3D imaging in situ and in 4D (over time) with advanced contrast tuning capabilities, extensive filtering options, and enhancements delivering greater accuracy and workflow efficiency.



"We are thrilled that Toshiba is expanding its use of the ZEISS Xradia Versa family of 3D XRM," said Mr. Vahan Tchakerian, Vice President of Global Sales for Carl Zeiss X-ray Microscopy. "With this addition, Toshiba Nanoanalysis is well-positioned to lead the 3D analysis market in central Japan."



Leveraging ZEISS Xradia synchrotron-caliber optics and industry-best resolution and contrast capabilities for a wide variety of sample types and sizes, the Xradia 520 Versa includes:



Dual-Scan Contrast Visualizer (DSCoVer) for Compositional Contrast: flexible side-by-side tuning of two distinct tomographies enables compositional probing for features often indistinguishable in a single scan.



High-Aspect Ratio Tomography (HART): a higher-throughput imaging mode delivering tomography acquisition up to 50% faster for flat sample geometries, leverages ZEISS Xradia "resolution at a distance" (RaaD) leadership to overcome traditional inefficiencies inherent in imaging high aspect ratio samples.



Automated Filter Changer: enabling select or application-specific filters to be changed within recipes without manual intervention for greater ease of use and workflow efficiencies.



In situ Interface Kit: optional for the highest-performance in situ 3D XRM characterization. The Xradia Versa platform is the industry's premier solution enabling the use of the widest variety of in situ rigs, from high pressure flow cells to tension, compression and thermal stages.



Toshiba Nanoanalysis recently introduced the capabilities of their Xradia 520 Versa at Semicon Japan, inviting industrial and academic scientists to discuss their non-destructive 3D research requirements.





More from Materials