Torque Wrenches support narrow access bolting.
Press Release Summary: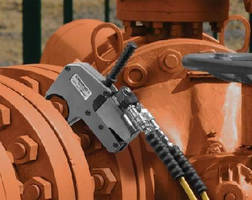 Featuring tapered design, narrow radius, and top-mounted handle, UltraSlim Torque Wrenches are designed for limited access applications. W4000 series covers AF nut sizes from 55–75 mm and imperial equivalent of 2 3/16 to 2 15/16 in. Fast release drive unit enables exchange of cassettes with no tools required, while 12-point socket design allows twice as many positioning points on nut or bolt. CE-ATEX declared for use in explosive environments, wrenches provide ±3% accuracy across full stroke.
---
Original Press Release:

Enerpac Introduces UltraSlim Torque Wrenches for Narrow Access Bolting



UltraSlim torque wrenches have been introduced by global professional bolting technologies leader Enerpac to provide a robust, high-performance bolting solution in tight spaces that may not accommodate standard tools.



The compact, durable and simply maintained UltraSlim torque wrenches are designed for general limited access applications in industries such as construction and infrastructure and particularly for applications in the oil and gas, mining, energy and marine infrastructure sectors including onshore and offshore drilling rigs and blowout preventers.



The new UltraSlim torque wrenches – which complement Enerpac's globally proven W hexagon and S square drive torque wrenches – feature a tapered design, narrow radius and top-mounted handle to help facilitate access to very tight spaces.



The new UltraSlim torque wrenches can easily be mounted over bolts in narrow access applications. In addition to its compact size, UltraSlim wrenches provide superior accuracy with plus or minus three percent across the full stroke.



With a user-friendly design, Enerpac's UltraSlim torque wrenches are simple to use and maintain, fast release drive unit enables easy exchange of cassettes with no tools required. UltraSlim torque wrenches combine premium grade components with enhanced tool geometry to provide bolting professionals with one of the toughest and most durable narrow access solutions on the market.



"The new UltraSlim torque wrenches improve safety, provide more uptime and last longer than any competitive slim line torque wrench," said Kurt Huber, Global Product Manager – Bolting, Enerpac. "With a unique compact design, exceptional accuracy and superior durability, our UltraSlim torque wrenches meet our customers' needs in performing narrow access bolting applications while ensuring the highest quality performance."



For increased versatility, the UltraSlim cassette 12 point socket design allows twice as many positioning points on a nut or bolt, compared with the typical 6 point socket. A new top-mounted straight handle facilitates safe and easy access to hard-to-reach fasteners. To accommodate diverse applications, an optional angled handle is also available on request.



All UltraSlim torque wrenches are CE-ATEX declared for use in explosive environments, and are shipped complete with a calibration certificate, unique to the tool helping to ensure accuracy and traceability.



The first of the UltraSlim ranges to be introduced, the W4000 series, covers AF nut sizes from 55 to 75mm and their imperial equivalent of 2 3/16 to 2 15/16in, providing a solution for precision tightening and loosening where standard low profile tools won't fit due to bolt height or nut-to-wall restrictions.



"One of the areas where the new UltraSlim excels is the assembly, disassembly and maintenance of oil and gas drilling rigs and also the blowout preventers found on every such rig," says Enerpac National Bolting Manager Mr Pat Molloy.



"These blowout preventers (BOPs) have many nuts and bolts that must be torqued whenever the rig is moved. Even though BOP bolts often have limited access for tools, they require controlled, precision bolting to ensure proper functionality and safety."



Further features of the UltraSlim torque wrench include:



• Range covers all common API flanges

• Engineered for best-of-type accessibility and performance

• Outstanding durability. Endurance testing has demonstrated four times longer life than alternatives, with similarly outstanding sideplate life compared with alternatives.



The UltraSlim tool compliments the existing range of Enerpac S series square drive and W series cassettes. Enerpac also offers a complete range of bolting tools, as depicted below.



Enerpac offers complete families of advanced bolting technologies to handle the toughest jobs dished out by industries such as construction, infrastructure, mining and energy, oil and gas; including powerful, precise and reliable non-impact fastening of API flanges manufactured for high strength operating systems. Enerpac professional bolting technologies include:



• Rigid steel Low profile and Square drive type torque wrenches with outstanding power to weight ratios

• Full range of top quality sockets

• Bolt Tensioners

• Powerful and highly portable torque multipliers

• Portable nut splitters

• Efficient flange splitting and flange alignment tools

• Tough, reliable energy-efficient pumps including

• New-generation Z-class electric pump

• New-generation Z-class air pump



Enerpac is an international market leader in high-pressure hydraulics, with 28 offices in 22 different countries and more than 1,000 employees.  Enerpac has been established in Australia and New Zealand as a major supplier of high-pressure (700 bar) hydraulic equipment for 50 years, having nationwide service backup and a strong distribution network. 



For more information about Enerpac equipment in Australia, please contact Enerpac, Block V. Unit 3, Regents Park Estate, 391 Park Road, Regents Park, Sydney 2143, ph Australia (61) Sydney (02) 9743 8988, fax (61) (02) 9743 8648, e-mail info@enerpac.com.au. For more information about Enerpac equipment in New Zealand please contact Neville Stuart on 02 166 7716 neville@enerpac.co.nz.



Enerpac is wholly owned by Actuant Corporation, a diversified industrial company serving customers from operations in more than 30 countries and is headquartered in Menomonee Falls, Wisconsin. Actuant trades on the NYSE under the symbol ATU. For further information on Actuant and its businesses, visit the Company's website at www.actuant.com

More from Electrical Equipment & Systems