Torque Wrenches help plumbers install no-hub couplings.
Press Release Summary: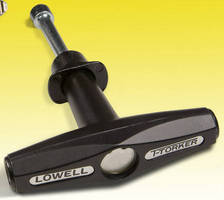 Available with 5/16 in. hex and 60 lb-in. torque setting or 3/8 in. hex with 80 lb-in. torque setting, Model T-T facilitates tightening of no-hub fasteners to proper torque value. Each wrench, preset to specific torque, will slip to prevent overrunning when max torque is reached. Based on proprietary ratchet technology, wrenches offer one-handed tightening in right-hand direction via ergonomic T-shaped handle. Set values are accurate to ±10% and cannot be modified by user.
---
Original Press Release:

Lowell Wrenches Help Install No-Hub Couplings Tight and Right.



Worcester, MA . . . Lowell Corporation's Model T-T torque wrenches can help plumbers get a perfect seal every time when installing No-Hub couplings.

The wrenches make it easy to tighten No-Hub fasteners to the proper torque setting. Each wrench is preset to a specific torque so when maximum torque is reached during the tightening process, the wrench will slip to prevent overrunning. Presets cannot be user-modified.

The T-T Wrench can be ordered with either a 5/16" hex and a 60 lb-in torque setting or a 3/8" hex with an 80 lb-in torque setting.

The Model T-T is also available as a two-wrench kit comprising two wrenches, three hex sockets (1/4", 5/16", and 3/8"), and a durable carrying case. One wrench is preset to 60 lb-in and the other to 80 lb-in. Each wrench is labeled with its torque setting and, in addition, each has a flanged collar that is color-coded for easy identification even in low light conditions.

Based on Lowell's ratchet technology, the torque wrenches offer fast, one-handed tightening in the right hand direction. The set values are accurate to ±10%.

The wrenches are designed for maximum efficiency and ease of use. Compact size, light weight, and an ergonomic T-shaped handle ensure hand comfort. The handle is also designed to give a user good leverage. The flanged collar can be easily pulled to disengage the ratchet mechanism and lock the tool for effective reversing action, without torque limitation.

All mechanisms are sealed in the die-cast handle and lubricated for the lifetime of the tools.

Like all of the company's products, Lowell's torque wrenches are guaranteed against defects in material and workmanship for a period of one year from date of delivery.

For more information about Lowell's torque wrenches, or for a full-line catalog, call 508/835-2900, email customerservice@lowellcorp.com, or visit the company's web site: www.lowellcorp.com.

About Lowell Corporation:
Started as the Lowell Wrench Company in 1869, Lowell Corporation is a leading American manufacturer of ratchet technology for hand tools and machinery. The company makes ratchet arms, socket wrenches, ratchet and roller clutches, and related products used by civilian industry, the military, and utilities. Lowell sells its products both nationally and internationally.

More from Portable Tools