Torque Wrench Pump improves flow rate across bolting cycle.
Press Release Summary: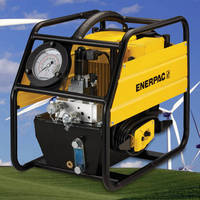 Engineered to meet torque application requirements of wind turbine industry in addition to those of general bolting applications, TQ700 operates from 82–85 dBA and features aluminum structural components. Optimized Flow Technology, which consists of 3 separate oil flow stages – each maximized for distinct portion of bolt tightening process, ensures more oil flows at appropriate time and volume. Standard features include roll cage and 20 ft pendant for control of integrated 1 hp IEC motor.
---
Original Press Release:

New Enerpac TQ700 Lightweight Torque Wrench Pump Achieves 50 Percent Faster Bolting



Menomonee Falls, WI—Enerpac introduces the new TQ700 Lightweight Torque Wrench Pump, featuring unique Optimized Flow Technology. This new pump delivers up to 50 percent faster bolting than traditional torque wrench pumps of equal size.



The TQ700 improves the flow rate across the entire bolting cycle. With more oil flowing at the right time and at the right volume, Optimized Flow Technology consists of three separate oil flow stages, each maximized for a distinct portion of the bolt tightening process.



The first stage flow allows more oil to be used when free-turning the nut onto a stud, instead of depositing it to the tank. Stage two begins when a stud starts to elongate and the rotation of the nut decreases, permitting the TQ700 to get the same amount of work out of less flow, while reducing the heat generated. This cooler operation results in longer pump life. As the rotation of the elongated bolt slows even more, the TQ700 enters the third stage flow until the nut tightens and the proper torque level is achieved. Less oil and heat are wasted throughout the bolting process and the job is completed faster.



Built off the successful Z-class platform, the TQ700 has been specifically engineered to meet the demanding torque applications in the wind turbine industry, in addition to general bolting applications. The structural components of the pump incorporate lightweight and durable aluminum with a compact footprint that easily fits through wind turbine door hatches or other small spaces. It is ideal for torque applications in remote, low-powered or generator-powered erection sites, as well as on the factory floor.



"While the TQ700 Lightweight Torque Wrench Pump is perfect for multiple wind turbine applications, such as rotor assembly and tower segment attachment, it can also be successfully employed in the oil and gas industry, mining applications and other industrial bolting functions," said Brian Alexander, Global Product Manager - Pumps & Valves at Enerpac.



The TQ700 has a streamlined feature set that keeps training to a minimum and increases work teams' productivity. The pump comes standard with a roll cage and includes additional side panels for added protection of the internal and ancillary components. The integrated handle, for transportation around the work site, doubles as a hoisting point. A side storage location for cords is also contained in the roll cage to protect the cable during storage and transportation. Additionally, the 20-foot (6 m) pendant for motor control allows for user mobility on the job site.



The pump includes a calibratable 4-inch (10 cm) diameter gauge with a polycarbonate shield, providing it with an extra level of protection. The gauge has been mounted on an easy-to-read angle. Strategically placed for easy access, large knobs for flow control and an adjustable relief valve make set-up and adjustment user-friendly, even with gloved hands.



Designed for continuous operation, the 1 HP advanced IEC motor draws low amps so it will not slow down when running off the variable voltage from field generators. The motor also has a high voltage tolerance and will not burn out when faced with voltage spikes or voltage drops caused by long extension cords. The pump provides quiet operation at 82-85 dBA, and low maintenance due to the brushless motor design.



Enerpac is an international market leader in high-pressure hydraulics, with 28 offices in 22 different countries and over 1,000 employees. Enerpac produces thousands of high-pressure hydraulic products that are distributed worldwide. Enerpac focuses on the design of products, from the smallest cylinder to complete computer-operated lifting & positioning systems, which increase productivity and make work safer and easier to perform.

More from Electrical Equipment & Systems