Torque Motor produces low degree of torque ripple.
Press Release Summary: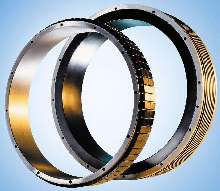 IndraDyn T series direct electric drive torque motors have torque ratings up to 4,500 Nm and speeds from 100 to 1,200 rpm. Synchronous frameless motors consist of stator with 3-phase winding and rotor with permanent magnets. Motors are for link circuit voltages of up to 750 V and have liquid cooling, including thermal encapsulation. Integrated temperature sensors protect motor windings against thermal overload.
---
Original Press Release:
IndraDyn T from Rexroth: Torque Motor Rated at 4,500 Nm
IndraDyn T from Rexroth offers high accuracy and fast dynamic response with extremely low torque ripple Thanks to direct electric drive technology, Rexroth is offering peak power from the new IndraDyn T series of torque motors. The newly developed series is comprised of motors ranging in sizes offering maximum torque ratings of up to 4,500 Newton meters and speeds ranging from 100 to 1,200 rpm. At the same time IndraDyn T achieves an extremely low degree of torque ripple. The Rexroth IndraDyn T torque motors are synchronous frameless motors that consist of a stator with three-phase winding and a rotor with permanent magnets. These direct drive motors eliminate wear-prone mechanical elements, such as gears, while simultaneously significantly increasing accuracy and precision. The IndraDyn T torque motors are designed for link circuit voltages of up to 750 V and have liquid cooling, including thermal encapsulation. The IndraDyn T torque motors can also be operated without cooling. Integrated temperature sensors protect the motor windings against thermal overload. Standardized connections are supplied for power and cooling. In the new Indradyn T series, Rexroth has drawn upon nearly ten years of practical experience in the use of torque motors in rotary table applications and swivel axes of machining centers. The new motor series also offers new solutions for robots, turning, plastics injection-molding, woodworking and general automation machines. Bosch Rexroth Corporation, a merger of Bosch Automation Technology and Rexroth, is a wholly owned subsidiary of Robert Bosch GmbH. In the year 2001 the separate companies had total revenues of approximately $3.42 billion (3.86 billion Euros) and a worldwide total of around 26,000 employees. Divisions include Industrial Hydraulics, Electric Drives and Controls, Linear Motion and Assembly Technologies, Pneumatics, Service Automation and Mobile Hydraulics. Bosch Rexroth - The Drive & Control Company - offers comprehensive solutions for drives and motion control in 80 countries around the world. Please Direct Reader Inquiries To: Ryan Wicks Bosch Rexroth Corporation Electric Drives and Controls 5150 Prairie Stone Parkway Hoffman Estates, IL 60192 Telephone (847) 645-3774 Fax (847) 645-6201 ryan.wicks@boschrexroth-us.com
More from Electronic Components & Devices