Torque-Limiting Retainers provide 350 lb clamping force.
Press Release Summary: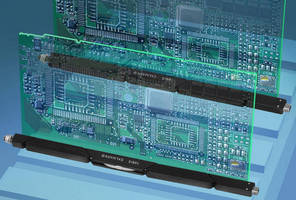 Respectively offered in .225 x .260 and .210 x .275 in. profiles, Calmark® Series 223 and 224 Card-Lok Retainers secure board module assemblies to cold wall in cold plate - heat exchanger applications - without torque wrench. Screw-actuated wedge action locks board module assembly in place with standard hex wrench, and secure hold meets military 2-level maintenance systems requirements. Design applies no insertion or extraction force on board module assemblies, eliminating overtightening.
---
Original Press Release:

Torque-Limiting Card-Lok Retainers Prevent Board Damage, Deliver Secure Hold for Two-Level Maintenance



San Diego, CA-Pentair Technical Products announces Calmark® brand Series 223 and 224 Card-Lok Retainers, designed to secure board module assemblies to the cold wall in cold plate - heat exchanger applications-with no torque wrench required. Card-Lok Retainers employ a screw-actuated wedge action that locks the board module assembly in place with the use of a standard hex wrench, establishing the secure hold required for military two-level maintenance systems. Five audible clicks during tightening indicate that a safe, yet firm clamping force has been reached. This torque-limiting design applies no insertion and extraction force on board module assemblies, eliminating the risk of overtightening to prevent damage to the board and Card-Lok during installation.

Available in 5.72 mm x 6.60 mm (.225 in. x .260 in., Series 223) and 5.33 mm x 6.99 mm (.210 in. x .275 in., Series 224) profiles, Card-Lok Retainers feature a five-piece design that provides an industry-leading clamping force of up to 350 lbs. The resulting connection withstands shock and vibration in security and defense applications-delivering the highest level of ruggedness for two-level maintenance compliance. This arrangement also optimizes contact between thermal paths on the board module assembly and heat-sinking surface, establishing maximum thermal transfer for reliable electronics cooling. An alignment spring returns wedge bodies to the related position upon unclamping, keeping wedges in line for tight tolerance situations.

"Proper thermal management is pivotal to ensure dependable performance from mission-critical electronic devices, particularly in the adverse conditions common in military applications," said Sebastien Buzit, Product Manager at Pentair Technical Products. "Calmark brand Series 223 and 224 Torque-Limiting Card-Lok Retainers prove that users do not need to sacrifice a secure clamping force to avoid damage to board module assemblies. Our patent-pending wedge design keeps these boards firmly in place, without the stress torque wrenches can place on sensitive electronics." Buzit adds, "Designed for two-level maintenance compatibility, our Card-Lok Retainers facilitate reliable, rugged conduction cooling at a module level."

Users can select Card-Lok Retainers in a wide range of standard lengths, mounting configurations and finishes, including:

Chemical Film Finish, Gold per MIL-C-5541, Class 1A

Chemical Film Finish, Clear per MIL-DTL-5541, Class 3, Type II

Black Anodize per MIL-8625, Class 2, Type II: Delivers good corrosion resistance and medium abrasion resistance

Hard Black Anodize per MIL-8625, Class 2, Type III: Boasts excellent corrosion and abrasion resistance

Electroless Nickel Plate per MIL-C-26074, Class 1, Grade B, Bright: Combines excellent corrosion protection with good electrical conductivity and low friction
Custom options, such as three-piece assemblies and non-standard mounting patterns and finishes, are also available.

About Pentair Technical Products
Pentair Technical Products, a Pentair global business unit, is the leading provider of worldwide product and service solutions for enclosing, protecting and cooling electrical and electronic systems. Its industry-leading brands-Hoffman®, Schroff®, McLean® Cooling Technology, Calmark®, Birtcher®, Aspen Motion Technologies(TM) and Taunus(TM)-provide a broad variety of standard, modified and engineered solutions to the commercial, communications, energy, general electronics, industrial, infrastructure, medical, and security and defense markets.

For more information, visit www.calmark.com or contact Pentair Technical Products at 2100 Hoffman Way, Anoka, MN 55303.

Media Contact: Nicole Mamura (Next Communications). Phone: 952-934-8220. Email: nicolem@nextcom.com.

Next Communications, Inc.
10249 Yellow Circle Drive | Suite 100 | Minnetonka MN | 55343 952.934.8220
Our address: Next Communications
10249 Yellow Circle Drive
Minnetonka, Minnesota 55343

More from Fluid & Gas Flow Equipment