Torque Inserts offer dual-ended attachment design.
Press Release Summary: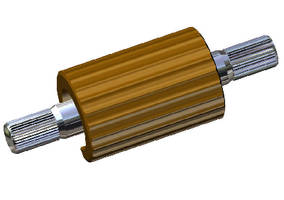 Featuring powdered metal housings, TI-300 Series Torque Inserts offer torque capabilities from 4.4–44.3 lb-in, depending on model. Mounting profile option with dual-ended attachment allows use of single torque insert in application and results in even load bearing and design stability. Serving as advanced positioning and pivoting technology solutions, inserts press-fit into round holes for quick installation in one step, eliminating need for mounting hardware and visible appearance of hinge.
---
Original Press Release:

Reell Introduces Dual-Ended Attachment Design for Mounting Newly Patented TI-300 Series Torque Inserts



Reell has introduced a dual-ended attachment design as an additional mounting-profile option for newly patented TI-300 Series Torque Inserts.  The dual-ended attachment version (developed for the TI-340 package) allows use of a single torque insert in an application and results in even load bearing and design stability.  This latest innovation expands the portfolio of TI-300 Series mounting profiles, which also include exposed shaft end, knurled zinc adapter (for installation into plastics), and one-way bearing adapter.  All TI-300 Torque Inserts press-fit into round holes for quick and easy installaton in just one step – eliminating any need for mounting hardware, reducing the overall cost of end-product solutions, and enhancing cosmetics by removing the visible appearane of a hinge.



TI-300 Series Torque Inserts ultimately serve as advanced positioning and pivoting technology solutions uniquely developed to outmaneuver conventional hinges.  They enable reliable, precise, and controlled positioning of equipment and components for a wide range of hinging applications in the consumer electronics, automotive, aircraft interior, medical technology, workstation furniture, kiosk/data terminal, and architectural lighting industries, among many others.  Industry-leading and fully qualified service life of 50,000 cycles ensures unmatched functionality over time.



The series is currently offered in two compact package sizes (TI-320 and TI-340) manufactured with powdered metal housings and generating the highest torque available in the marketplace for their size.  Depending on model, torque capabilities range from 0.5 N-m / 4.4 lb-in to 5.0 N-m / 44.3 lb-in.  Symmetric or "one-way" torque options are available.



These patented torque inserts further benefit from patented ReellTorq® clip technology, which eliminates any need for adjustment and imparts a premium quality feel, smooth and precise position control, and consistent torque.



Detailed specifications and CAD models can be accessed at www.Reell.com and custom products can be developed to meet particular application demands.



Contact John Schannach, Reell Precision Manufacturing Corporation, 1259 Willow Lake Boulevard, St. Paul, MN 55110-5103 USA.  Phone: 651-486-3333; Fax: 651-484-3867.  Email: info@reell.com  Web site:  www.Reell.com