Torque-Free Clamping Levers are constructed of stainless steel.
Press Release Summary: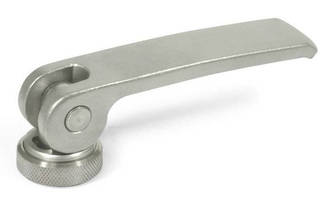 GN 927.7 Stainless Steel Clamping Levers with Eccentrical Cam with Stainless Steel Contact Plate, Tapped Type, come in inch and metric sizes. Offered in Type A (adjustable contact plate) or Type B (fixed contact plate), RoHS-compliant clamping levers serve rapid clamping/releasing operations. Combined downward vertical and cam actuated motion permits torque-free clamping, and design ensures movement cannot exceed maximum clamping position. Thrust forces reach up to 1,800 lbf.
---
Original Press Release:

J.W. Winco, Inc. Torque-Free Clamping Levers of Stainless Steel



NEW BERLIN, WI – J.W. Winco, Inc., a leading supplier of standard industrial machine components, announced it now offers GN 927.7 Stainless Steel Clamping Levers with Eccentrical Cam with Stainless Steel Contact Plate, Tapped Type, in inch and metric sizes. Levers are offered in Type A with adjustable contact plate, or Type B with fixed contact plate.



These RoHS-compliant clamping levers are used for rapid clamping and releasing operations. In contrast to a clamping operation utilizing only threads and a lateral force, these levers permit torque-free clamping via a combined downward vertical and cam actuated motion. The lever has been designed to insure that its movement cannot exceed the maximum clamping position. With these clamping levers, thrust forces of up to 8 kN (1800 lbf) can be obtained.



With the Type A version, the distance between the eccentrical cam and the contact surface is adjustable by means of a fine threaded knurled nut. This permits the maximum clamping force to be set by a simple adjustment. In addition this also permits the selection of a preferred lever position in relation to the clamping lever pin.



Lever and components are of AISI 303 stainless steel. Contact plate is stainless steel, Super Duplex 255 material, hardened. Type A setting nut is also made of AISI 303 stainless steel.



J.W. Winco offers an extensive selection of inch and metric size adjustable levers, cabinet U-handles, plastic and steel hinges and locking mechanisms, revolving and retractable handles, hand wheels, hand cranks, tube connection and conveyor components, inch and metric construction tubing, shock absorption mounts, leveling mounts, hand knobs, spring, ball and indexing plungers, jig, fixture and fastening components, retaining magnet assemblies, toggle clamps, metric casters and wheels, universal joints, oil sight glasses, and metric tools for the industrial and commercial equipment industries. J.W. Winco's website catalog, with 3D CAD and online buying, is viewable at www.jwwinco.com.



For more information, contact J.W. Winco at 800-877-8351, by fax at 800-472-0670, on the Web at www.jwwinco.com, and via e-mail at sales@jwwinco.com.



Dave Amoroso, Vice President

Ron Sonntag Public Relations, Inc.

9406 N. 107th Street 

Milwaukee, WI 53224

414-354-0200, ext. 108 

fax: 414-354-5317

cell: 414-788-4913

dave@rspr.com

More from Mechanical Components and Assemblies