Torque Flange Sensor works in harsh environments.
Press Release Summary: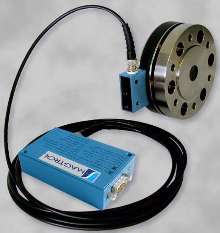 Insusceptible to signal interference, TF Series has mechanically resistant design with antenna that does not need to be looped around sensor and protective cover that can be mounted close to sensor without affecting signal. Features include direct mounting capability, noise immunity, and optional software and torque transducer displays. Series has torque range of 50-50,000 Nm, accuracy of 0.1-0.25%, load capacity of 200%, and overload limit of 400%.
---
Original Press Release:

Magtrol's New TF Series Torque Flange Sensor for Complete Torque Measurement


Buffalo, NY - The robust construction of Magtrol's new TF Series Torque Flange Sensor (TF Sensor) allows for its use in even the harshest of environments.

The TF Sensor can be used for torque measurement of transmissions, powertrains, wind generators, gas turbines and boat engines. It can also be used in general combustion engines as well as in electric motor and gearbox test benches.

Another benefit of this complete torque measurement system is its insusceptibility to signal interference. This benefit results from the fact that the TF Sensor's antenna, unlike antennae in its competitors' designs, does not need to be looped around the sensor. Additionally, a protective cover can be mounted close to the sensor with no effect on the signal, unlike in other systems that have loop antennae.

The TF Sensor is also extremely resistant. If fact, Magtrol's design is more mechanically resistant than many of its competitors' designs that have printed circuit boards or antennae that loop around the sensor.

Other advantages of the TF Sensor include: direct mounting capability, highly accurate signal transmission and excellent noise immunity.

Magtrol offers Software and Torque Transducer Displays as options that enhance the capabilities of the TF Sensor. Integrated speed pickup and high temperature capability are also optional. Every TF Sensor has a torque range of 50 N·m to 50,000 N·m, an accuracy of 0.1% to 0.25%, an overall load capacity of 200% and an overload limit of 400%.

Magtrol is a leading solutions provider for Tension and Torque Control, Motor Testing and Load Measurement applications. Magtrol manufactures high-quality products to measure and control torque-speed-power, load-force-weight, tension and displacement. To obtain additional information about Magtrol's complete line of products, please contact Magtrol, Inc.; 70 Gardenville Parkway; Buffalo, NY 14224; +1-716-668-5555; or visit the company on the Web at www.magtrol.com.

More from Mechanical Power Transmission