Torque Dampers prevent lids from slamming shut.
Press Release Summary: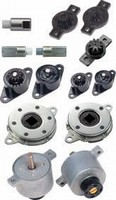 Torque Damper Industrial Hardware product line offers wide torque and range of two-way and one/two-way configurations. Dampers come in compact cartridges to provide smooth soft movement and function for electronic equipment, armrests, tool boxes, cabinets and furniture, and printer/copier covers. Product line includes rotary dampers with or without gears, disk dampers, and adjustable vane dampers. Rotary and disk dampers function in clockwise or counter clockwise directions.
---
Original Press Release:

New Torque Damper Industrial Hardware Collection



Wednesday, April 26, 2006

Sugatsune launched its state of the art all new Torque Damper Industrial Hardware product line to the USA market. This industrial hardware brings smooth soft movement and function to everyday products. The torque dampers ensure quality, safety and durability to a wide range of products and applications such as CD, DVD, VCR, MD Players, armrests, cellular phones, tool boxes, cabinets and furniture, printer & copier covers.

The special feature of this Torque Dampers collection is the range of wide torque, and range of configurations for two way, one/two way, many available sizes and choice of Rotary, Vane or Disk dampers. Sugatune unique high torque dampers come from extremely compact cartridges that keep lids from slamming shut. The Torque dampers are selected according to the size, weight, and opening orientation of the mechanism. The Rotary and Disk dampers are available in clockwise or counter clockwise directions.

The new Torque Damper Industrial Hardware product line includes:
o Rotary Dampers with or without Gears
o Disk Dampers
o Vane Dampers - Adjustable

Technical CAD drawings, PDF files are data sheets detailing the measurements and specifications of each Torque Damper and Torque calculations are available from www.sugatsune.net or by requesting the new Industrial Hardware Catalog #152.

About Sugatsune
Sugatsune is a leading manufacturer of Titanium Hardware, Catches & Latches, Lid Supports, Torque Dampers, Drawer Slides, Hooks& Brackets, Hinges, Handles, Pulls & Knobs, Leveling Glides & Casters, Locks, and Enclosure Components. The company is ISO 9001 and ISO 14001 compliant with many products being NSF certified and conform to European RoHS and Semi S8 directives. The LAMP brand by Sugatsune is known for its superior product design and quality. Sugatsune is a global hardware company with offices and distribution in Japan, China, UK, and USA.

For more information, please contact Sugatsune America at 800-557-5267 or visit Suatsune.net or email sales@sugatsune.net.

Editorial Contact:
Steve Hirasawa
Sugatsune America: Industrial Hardware Marketing Manager, USA
Direct Tel 310-329-6373 ext. 14
Email: Hirasawa@Sugatsune.com

More from Controls & Controllers