Torque Arm Drive System saves floor space.
Press Release Summary: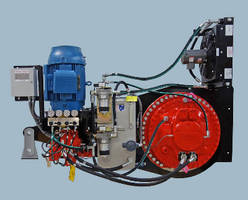 Featuring self-contained, closed-loop design, Hägglunds TADS Hydraulic Drive System comes with either internal splines or hollow output shaft with compression coupling that mounts directly to machine's drive shaft. TADS delivers max torque from zero speed with infinite start, stop, and reverse, which will not damage system. Equipped with fast hydraulic pump compensators to minimize wear, drive system is suited for apron feeders, belt feeders, belt conveyors, and infeed conveyors.
---
Original Press Release:

Powerful Hägglunds Torque Arm Drive System (TADS) Shrinks Installation Costs, Saves Floor Space



Self-contained, closed loop hydraulic drive system comes preassembled



Rugged, reliable and versatile, the Hägglunds TADS hydraulic drive system from Bosch Rexroth is a powerful, self-contained drive package for applications and systems where space is limited.



The Hägglunds TADS is a completely self-contained, easy-to-install system and  comes with either internal splines or a hollow output shaft with a compression coupling that easily mounts directly to a machine's drive shaft.  Flexible shaft couplings and associated alignment problems, extra long hoses or lines, and control lines between conventional power unit and motor are eliminated.



Small Footprint

Hägglunds' groundbreaking way of using hydraulics to produce rotation delivers a number of benefits electromechanical systems can't. For example, our direct drive system eliminates gearboxes and the need for heavy pedestal foundations, which shrinks installation costs and saves valuable floor space.



Easy to service

The compact open design affords easy access for routine maintenance.



Power when needed

TADS delivers maximum torque from zero speed with infinite start, stop and reverse, which will not damage the system. This feature can add an all-new level of productivity for some applications, in particular apron feeders, belt feeders, belt conveyors, and infeed conveyors in the bulk material handing & mining, recycling, cement, and pulp & paper industries. The newly reconfigured TADS design not only lowers system cost, it also brings TADS into the lower power ranges where its low TCO (total cost of ownership) makes it an attractive alternative to electromechanical systems.



The Hägglunds TADS unit features extremely fast hydraulic pump compensators that can reduce the wear and lengthen the life of any machine. Load-sensing and power-limiting tools enable operators to intelligently sustain peak levels of operation that outperform other systems–boosting machine uptime and helping reduce total cost of ownership.



For more information on other Rexroth solutions and expertise, visit www.boschrexroth-us.com/hagglunds



About Bosch Rexroth

Economical, precise, safe, and energy efficient: drive and control technology from Bosch Rexroth moves machines and systems of any size. The company bundles global application experience in the market segments of Mobile Applications, Machinery Applications and Engineering, Factory Automation, and Renewable Energies to develop innovative components as well as tailored system solutions and services. Bosch Rexroth offers its customers hydraulics, electric drives and controls, gear technology, and linear motion and assembly technology all from one source. With locations in over 80 countries, more than 33,700 associates generated sales revenue of approximately $7.4 billion (5.6 billion euros) in 2014. To learn more, please visit www.boschrexroth-us.com



About Bosch

Having established a regional presence in 1906 in North America, the Bosch Group employs some 28,700 associates in more than 100 locations, as of April 1, 2015. In 2014, Bosch generated consolidated sales of $11.3 billion in the U.S., Canada and Mexico. For more information, visit www.boschusa.com, www.bosch.com.mx and www.bosch.ca.



The Bosch Group is a leading global supplier of technology and services. It employs roughly 360,000 associates worldwide (as per April 1, 2015). The company generated sales of $65 billion (49 billion euros) in 2014.* Its operations are divided into four business sectors: Mobility Solutions, Industrial Technology, Consumer Goods, and Energy and Building Technology. The Bosch Group comprises Robert Bosch GmbH and its roughly 440 subsidiary and regional companies in some 60 countries. Including its sales and service partners, Bosch is represented in roughly 150 countries. This worldwide development, manufacturing, and sales network is the foundation for further growth. In 2014, Bosch applied for some 4,600 patents worldwide. The Bosch Group's strategic objective is to create solutions for a connected life. Bosch improves quality of life worldwide with products and services that are innovative and spark enthusiasm. In short, Bosch creates technology that is "Invented for life." Additional information is available online at www.bosch.com and www.bosch-press.com, http://twitter.com/BoschPresse.



*The sales figure disclosed for 2014 does not include the former joint ventures BSH Bosch und Siemens Hausgeräte GmbH (now BSH Hausgeräte GmbH) and ZF Lenksysteme GmbH (now Robert Bosch Automotive Steering GmbH), which have since been fully acquired.



Contact for Journalists:

Bosch Rexroth Corporation

Susan Strauss

2315 City Line Road

Bethlehem, PA 18017

Telephone (610) 694-8352

Fax (610) 694-8352

susan.strauss@boschrexroth-us.com

More from Electronic Components & Devices