Toroidal Transformers offer power ratings from 20-1,000 VA.
Press Release Summary: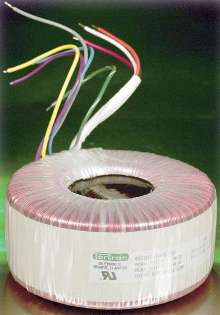 Certified to UL, CSA, EN, and IEC standards with CE marking, CUSTARD (CUSTom/standARD) general-purpose transformers are based on power ratings from 20-1,000 VA. They incorporate standard primary windings for 117 V/230 V, 50-60 Hz operation and any secondary winding specified by end user. Applications include use as motor drives, step-down transformers, and power supplies. Models for medical applications are available.
---
Original Press Release:

Bridgeport Magnetics Offers New Toroidal Transformer Line


Bridgeport Magnetics has introduced its new general-purpose transformer line under the trademark CUSTARD (CUSTom/standARD). A unique program of custom designed toroidal transformers based on a full range of power ratings from 20VA to 1000VA with standard primary windings for 117V/230V, 50-60Hz operation and with any secondary winding specified by the customer, at highly competitive prices. The CUSTARD transformer line is based on Bridgeport Magnetics' stock of standard cores with primary windings and insulation in place. CUSTARD transformers are certified to UL, CSA, EN and IEC standards with CE marking. Applications of the CUSTARD transformers include motor drives in robotics, power supplies in analytical, test and measurement instrumentation, as step-down transformers in industrial controls, UPS systems, low voltage lighting and other uses when a low profile, low noise, cool operating temperature or low weight are desired features. Delivery of CUSTARD transformers will be within 72 hours.

As a price example a 500VA transformer with two secondary windings is $52.50 @100 pcs.

It should be noted that the CUSTARD series is general-purpose transformers, and that a full custom design may be preferable for high-end audio and medical applications. For audio applications a low flux density may be selected in order to minimize magnetic strayfield and mechanical noise. For medical applications Bridgeport Magnetics will design a full custom transformer in compliance with UL2601, CSA601.1 and IEC601.1. Medical isolation transformers are available as standard designs from 150VA to 2000VA with our without enclosures. For low voltage lighting of 12 or 24V, Bridgeport Magnetics offers a standard line from 50VA to 1000VA also with or without enclosures. Bridgeport Magnetics' website contains detailed information of dimensions and weight from 23VA to 1000 VA.

For more information please contact Lennart Elmlund at 203 367 5188 or by email to lennart@bridgeportmagnetics.com or visit www.bridgeportmagnetics.com.

Bridgeport Magnetics is a registered trademark of Tortran, Inc. founded in Bridgeport, CT in 1986. The company specializes in the design and manufacture of toroidal power transformers, current sensing transformers (CT's) and inductors. Most designs utilize cores made of grain oriented silicon steel strips, powder iron or ferrite.

More from Packaging Products & Equipment