Toroid Inserts provide eight usable edges.
Press Release Summary: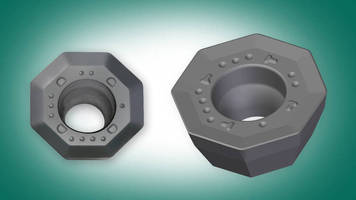 Featuring 45 degree lead angle, RHINO-CARB Toroid inserts suit face milling, profiling, helical interpolation and chamfering applications. They come in ½, 5/8 and ¾ in. IC, with either T-land or dished-face edge. T-land inserts offer reinforced cutting edge for steels, irons and hard milling, while dished-face units provide high-positive cutting edge for stainless steels, high-temperature alloys and gummy materials. Units are also available in round/button, high-feed and square sizes.
---
Original Press Release:

Dapra's New Octagonal RHINO-CARB Toroid Inserts Provide Eight Usable Edges for High-Performance Face Milling



DAPRA's new high-performance RHINO-CARB Toroid insert line includes an octagonal geometry that is excellent for general face milling. These inserts feature a 45-degree lead angle that provides increased feed capacity for face milling, profiling, helical interpolation and chamfering. Each of the inserts' eight usable edges comes with an integral wiper flat for outstanding surface finishes. No special wiper inserts are needed.

DAPRA offers these RHINO-CARB OPMH eight-sided inserts in 1/2", 5/8" and 3/4" IC, with either a T-land or dished-face edge. T-land inserts offer a reinforced cutting edge for steels, irons and hard milling, while the dished-face option provides a high-positive cutting edge for stainless steels, high-temperature alloys and gummy materials.

Designed for aggressive metal cutting and long tool life, DAPRA's RHINO-CARB Toroid insert line offers enhanced strength and heat absorption capabilities when compared to ground inserts. A positive top rake reduces cutting forces and torque, while a stronger cutting edge accommodates heavier chiploads and provides greater shock absorption. RHINO-CARB inserts are available in the octagonal geometry - as well as round/button, high-feed and square - with a wide variety of grades and coatings, positioning DAPRA's Toroid line as an extremely versatile, high-performance milling line.

For more information on these new RHINO-CARB inserts, please contact DAPRA Corporation, by phone at (800) 243-3344, by fax at (860) 242-3017 or by email at info@dapra.com. To view DAPRA's complete Toroid line, including tips for proper 45-degree lead angle compensation calculations for octagonal inserts, visit the company's website at www.dapra.com.

From: DAPRA Corporation

66 Granby Street

Bloomfield, CT 06002

800-243-3344

www.dapra.com

info@dapra.com

More from Services