Emergency / Disaster Relief Shelters
Tornado Shelter Manufacturer Exhibits at Louisville Manufactured Housing Show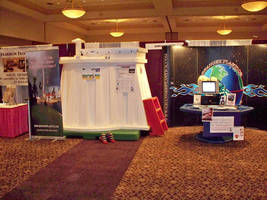 Tornadoes have been wreaking havoc in America over the last few years. The December 25, 2012 outbreak injuring 8 and leaving 150,000 people without power have people thinking about this type of storm happening at any time as a way of life instead of rarity. Many had to leave their homes in the middle of Christmas celebrations to go to designated storm shelters. This type of inconvenience paired with the unpredictability of these storms has many homeowners thinking about owning a tornado shelter.

Tornados have been known to destroy all types of buildings. While there is not a room in a building, even in the basement, that is safer than being in an underground shelter designed to protect you from this type of storm. There is a higher risk of damage being in a manufactured home, but any building without an underground shelter carries risk in the right storm. Manufactured housing customers have expressed an increased interest in owning tornado shelters, offering the safest solution for the tornado risk.

Granger Industries, the internationally recognized rotational molding leader and the manufacturer of the Granger ISS - In-ground Tornado Shelter will be exhibiting at the Louisville Manufactured Housing Show at the Kentucky Fair and Expo Center on January 23rd thru 25th. This show will be attended by manufactured housing retailers, community owners & managers as well as representatives from a number of leading home manufacturers from all over the United States. Granger Industries intends to set up several new retail dealers at this event making the Granger ISS more easily available to the public.

The manufactured housing sales centers that currently offer this product have seen increased sales reaching out to many new customers. Some of these manufactured housing retail sales centers have reported an increase in new home sales, some experiencing up to a 30% increase in their sales, due to creative marketing and offerings around the Granger ISS Tornado Shelter. Many customers who might have avoided the risk of this type of home are now interested when offered the safety of a tornado shelter. Those that go further, such as educating the consumer about tornado safety or other innovative marketing tactics see a more dramatic consumer interest. Some companies are now offering a tornado shelter as an incentive with the purchase of a new home.

Granger Industries is dedicated to offering the highest quality plastics innovations, specializing in large, complex, custom products. Granger Industries touts a diverse range of product capabilities that span a growing number of industries including aerospace, medical, defense and many more. A world renown rotational molding leader and in business for almost two decades, Granger Industries has never seen a greater interest in safety products including the Granger ISS - In-ground Tornado Shelter. To learn more about the Granger ISS please visit www.grangeriss.com.

Granger Industries includes Granger Plastics Company, ForeverSafe Products and Granger Aerospace Products. Granger Plastics Company is a world recognized rotational molder manufacturing a variety of custom and proprietary products. To learn more about Granger Plastics Company please visit www.grangerplastics.com or contact us at 513-424-1955. To learn more about Granger Industries please visit www.grangerindustries.com.

More from Controls & Controllers